Now that 2006 is coming to a close, here's my recap for the year.



Project tally for 2006


I have started tracking my projects more religiously so as to have a better idea of my preferences and pace.


Started: 20 projects (inclusive of both knitted and crochet pieces)
Finished: 12 items
Ripped: 4 of them
Still in progress: 6

From my journal, it's obvious that I am really into knitting garments, especially adult sized ones. There's
the shrug
and
red lace top
for Mom and
a sweater
for GT. Other than that, the rest are mostly for myself; such as
Tinklebell
,
the Vittadini Twisted Front
,
bustier lace
and
Bamboo lace
. Accessory items are kept to the minimal.

Crochet projects takes up less than 15% of the lot though the most memorable piece has got to be the
crochet dress
.


Getting involved in swaps and exchanges
I had fun with the Knitters Tea Swap 1 & 2, Dye-O-Rama and Elf.Swap. More importantly, it was great to pitch in for a good cause by sending squares to the Warming Grace Project.


Meeting new people who become customers and great friends!
Just
check them out
. Need I say more?

The gals have been great fun and having met them have liven up my life a lot! Besides, the satisfaction of seeing their finished projects make me incredibly pleased and proud of their success. Honestly, I think they have helped me get rid of any possible corporate life withdrawal symptoms with their great company.


Mentions in the magazines
Getting mentions in magazines such as: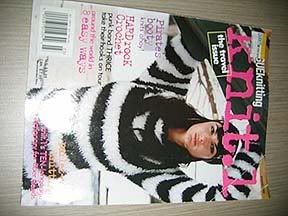 In an article called "Planet Knit" featuring knitters around the world.
and
Simply Her (Dec 2006 issue)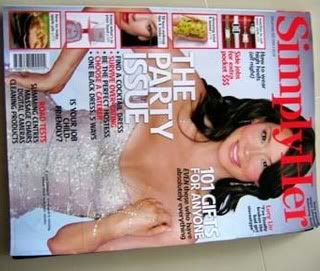 In the Simply Her mag, the article is entitled "Blogging for Success". The whole affair was pretty fun and it turned out well. Except the photo spread (I'm the one in the middle) got most of my friends asking,

"who is your makeup artist/hairstylist for the shoot?"
"do you have the name of the Photoshop editor?"

In great jest, they are just poking fun at my image since I wear specs all the time. I had put on contacts for the shoot -- and yes, I do have small eyes. Despite all attempts to smile with my eyes wide, I realized that this action is precisely why I disliked being photographed.

My eyes disappear into thin lines when I smile. Any attempts to open my eyes wide while smiling will result in un-natural eyebrow arching.

So I don't think my blog readers would recognize me on the streets sans makeup. Especially since I also had a haircut lately. In fact, looking at the various photos, I can understand my friend's jibs -- I also did a makeover in a bridal magazine and even my good friend could scarcely recognize me until I pointed out my face to him (yea, and he was looking at that very page that I was on! LOL!)

I think 2007 means I should look into doing a style revamp soon!
Happy Holidays everyone and have a great year ahead, come 2007!