Thanks for all the compliments on Ms Cold Shoulder. It's a really simple design that I developed on the fly during the Taiwan trip which I may publish later.
Over the weekend, I discovered more things from my WIP closet.

This one is languishing pathetically in one of the carrier bags with some remnants. No pattern sheet, nor any indications of the needles used. This looked like a case of

*I just worked out the pattern and the repeats; and off we go*

situation -- in short, no patterns used.
But with one half done and cast off, I did what any other knitter would do.
Just took it out of the bag, knitted the other half and seamed them both together. I also took the opportunity to do an i-cord bind off.

Honestly, I am glad I finished it.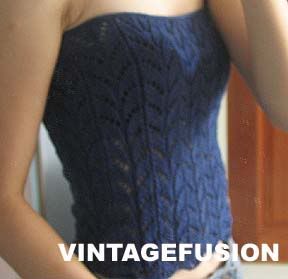 The top still fits! Talk about instant gratification since one half took me slightly over a day from start to finish.

Either the continous rain for the past few days have been a great motivator or the thought of getting some FOs to start the new year has been so overwhelming that I am pushed over the helm to get these UFOs finished bit by bit!

These tops will get more wear from March onwards when the weather turns hot!


With the cold spell lately, Mom's having thoughts of a shrug. Something to provide coverage on her shoulders on her shopping mall trips or medical check-up visits. (Yeah, one thing you don't know of Singapore, we have freezing malls.)

We flipped some magazines and found this. But of course, she wants the sleeves longer, the top to be shorter. She can't see the top so I need to do some doodling to show her. That's Mom for you.


What do we do for our beloved Mom? We just cast on the project straight away!

Mr Sockie is now my companion when I hit the streets. *ahem* He doesn't like to be reminded that he's being *relegated* to the bottom of my tote bag.