Hope everyone had a great Christmas.

GT is on leave the whole time so we spent time sprucing our apartment. And it was a delight when this package arrived.


It's from
Katie
from MA, USA. I love the contents to bits! There's lots of yarns, huge amounts of tea, sinful piles of cookies and treats...there's also a ceramic teacup that survived the long distance across half the globe!

I was so giddy with delight -- GT was poking the box for all the tea sachets since he's the tea freak. Thanks so much, Katie!

The package came at such a joyous time and was a great pick-me-up after all the scrubbing, dusting and packing we were doing!
Swaps/exchanges are such fun activities -- I wonder if anyone's game for exchanges in early next year? I could sure use some Smith's Thai Chilli chips from Australia or more yarn? GT bought 2 packs for me from his Australian trip and they were absolutely delicious!


I also managed to finish the lace mohair project -- the back piece; that is.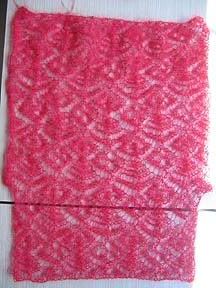 And started on the left front.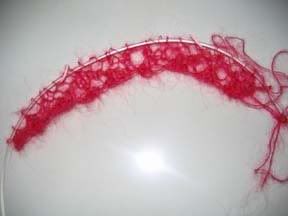 37 stitches doesn't sound like a lot but Ms Mohair is taking its leisure stroll in the park!



Hearing Jenny's resolution of wanting to have a knitwear ready for the Chinese New year
, I've decided to start Mom's blouse on Christmas Eve. Mom has selected 2 patterns that she wanted to wear for the festive CNY even though the red lace blouse was already gifted to her (which she apparently don't count as an FO.)


We were invited by our friend who organized a potluck party so it was a good opportunity to knit and chat. Apart from the wine sipping, that is. (God knows but I somehow managed to avoid dirtying my work.)

The project is going so fast that I am already into the 3rd ball since it's worked on 5.5mm needles. Perhaps there is a chance I could convert it as a final FO for 2006?