The red lace top is finally finished. I have given it a long and hard thought.

Mom has tried on this knit top and she loves it. How could I deny her of her request to have it? Besides, I haven't done a knitted top for Mom this year yet (but having said that, she has already made requests for 2 to be knitted for Chinese New year. And no, this red lace knit top doesn't count as one of them.)

But I have to say that I am really liking it a lot; especially when sleeve #2 is attached.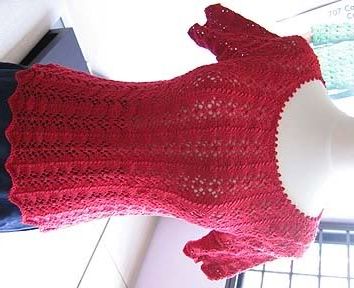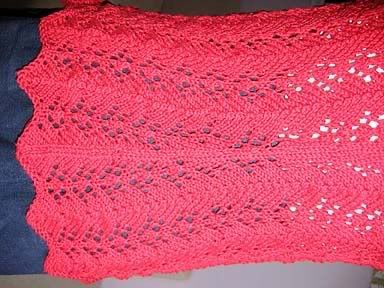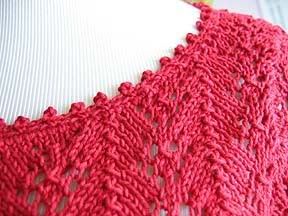 These are the details on the waist shaping as well as the collar edging.
My wearability photo attempts: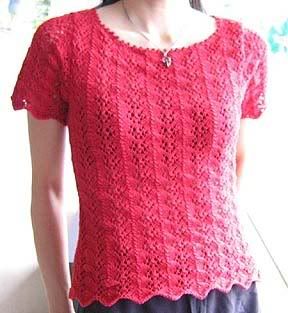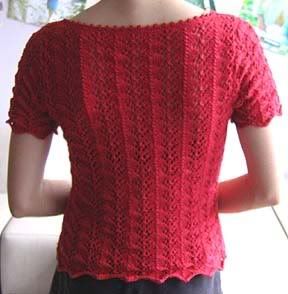 I've got to say that the garment is really ladylike. In fact, maybe a tad too *ladylike* (whatever that means, I think it's just *tame* with the sleeves.) And surprisingly, it's acceptable looking but I promised to gift my mom and so it shall go to her.
PS. All the photos are done pre-soaking so the garment should even out better after a wash.
I have also started another gift -- this time, for an ex-colleague who is visiting China in early Oct.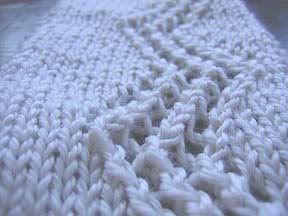 I've knitted it up using size 6mm needles so it's coming along quickly!