Edited to add:
Several people have wrote to me asking where this pattern is available. I tried locating it myself and found that it's somehow not showing up. But there's the direct link to the Interweave Store Lily Chin crochet dress pattern page for the e-purchase download.
Well, this is it!

This entry got delayed as I was trying to take reasonable photos of the dress. I am happy to report that the pre- / post- washing doesn't have much changes to the length, width etc.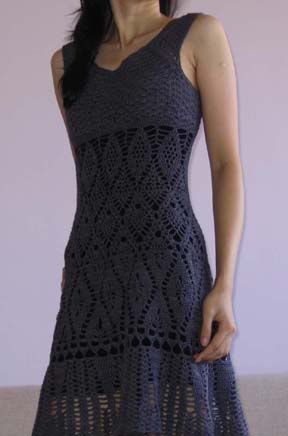 The modelled, chest out, look far far away style.
No head shot coz that would probably spoil the photo.
So just use your imagination to envision the whole look ok?
Many have asked me for more details about this dress. Here are the notes:
Pattern: Lily Chin designed lace crochet dress found in the first issue of Interweave Crochet.
Size made: the smallest and teeniest (coz I modified the skirt from bodice down to have it body snug.)
Yarn used: 9 balls of Schachenmayr Nomotta Catania
Needles used: size 3mm and 4mm crochet hooks
Time taken: 2.5 weeks from start to finish -- that's a personal record for something this size (my crochet flowers motif top took the same amount of time too!)
Pattern construction
This pattern is worked in 2 directions:
- From below the bust/bodice up to the neck.
- Then pick and crochet downwards from the lower edge of the bust for the skirt.
Pattern modifications:
The dress draws in nicely and shortens automatically due to the smaller hook I used. I also added 2 more shell rows below the bust (by picking up from under the bust) when I realized that due to my hook change, the bodice ended up too short. [For those of you whose bust may be low set, you may need to add 2 rows or so of plain shells before you go into the shaping.]

I lowered the neckline as I found it too high for my liking. This is with much trial and error.

Other than that, I also found that there's a slight gap where the sleeve meets the bust so I added a small shell dart (as an afterthought), making it less obvious.I started out using the measurements for the smallest sizing but from the skirt portion, I went down 3 repeats from the start so it has a slimmer silhouette.

So as you can see, sometimes, I just like to fiddle with a pattern too much! LOL!
I have managed to find a black slip from my wardrobe which works fairly well. Except that the slip neckline threatens to do peek-a-boos at all times. So my students suggested a snap fastener to be sewn on the inside to make it stay in place.

Here's another with me sitting down.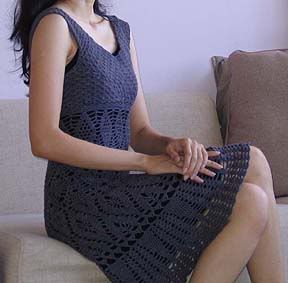 Nothing too indecent...though I have to remember to do the obligatory dress sweep
before I sit to ensure it doesn't ride up too much!
So this is concludes my adventure with this lace crochet dress! I really love the way the dress fits and the minimal swing that makes this dress feminine yet chic due to the lower neckline.
You can bet that this will be my favorite dress in my wardrobe from now on! [Until I knit or crochet another one, that is! (grin)]