Until yesterday, I was still working on the ribbing on Mom's shrug.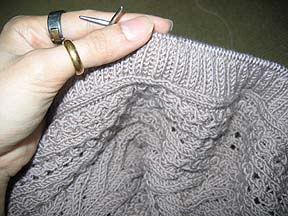 But at 4 pm today, I finally decided that I've gotten sick of ribbing so I just went ahead and finished the edging. And so here is it!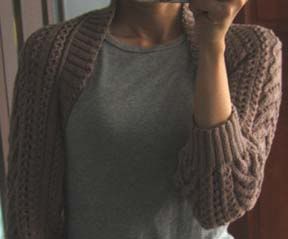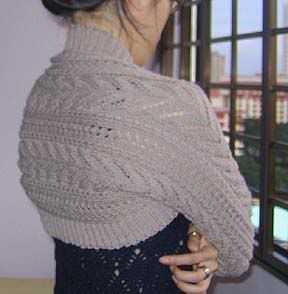 This took me no more than 5 balls of Rowan 4ply soft which I carry as part of my stock. It's much more of a 3/4 sleeve version on me but should fit my mom nicely. One of my students who came earlier for her knitting lesson this evening decided that she's gonna knit a shrug after trying it on. We'll be using different lace patterns as fillers.
As usual, modelling it seems to bring out the best of the shrug though my photography skills still needs improvement.
Remember the socks? I finally managed to convince hubby to put them on for a photo.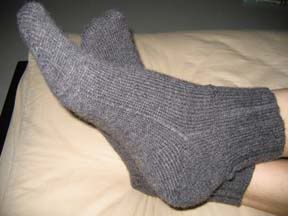 That's a pair of size 12 feet for you. :)
In case anyone's wondering about Agnes' comment and my short interview was featured in Knit.1 mag -- it's on page 25 of the Spring 2006 issue. (Just pardon that photo; doing a self-timer photo shoot isn't my forte yet.)
So if you have visited my blog as a result of the article, please say hi, will you?