I've finally gotten around to dressing the mauve tank top (which many correctly identified as the Vittadini pattern.)

This is how it looks on the mannequin.




And how the garment actually looks when it's worn on me.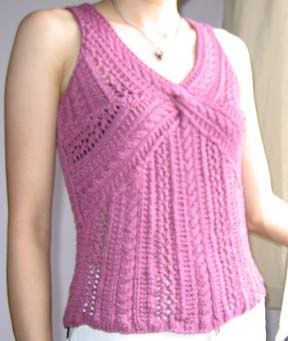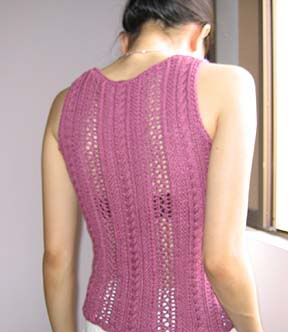 Pattern: From Vittadini pattern book.
Size made: Smaller than small (any surprise that I have yet again *downsized* the pattern?)
Yarn used: 6 balls of Gedifra Top Soft
Needles used: size 5.5mm & 6mm knitting needles
Time taken: 4 weeks from start to finish -- a little bit of procasination, a dash of overseas travel + some pattern deciphering.
My thoughts on this garment
Very modest neckline. The garment is really soft next to the skin and definitely very breathable due to the lace pattern used. The cables also added some texture.
This will definitely be a regular piece in my wardrobe.
Want to see another garment (WIP photo) that is done up in the same yarn? Check out my student's work! Now, hopefully I can keep going and finish off the other project too!