Taking a water break even though I am nearing the finishing line on my projects. You better do too since it's gonna be quite a list.

1.
Hoodie
needs a zip installed which I need to shop for
Check, zipper bought few days ago. From the previous post photo, don't you think the length is ok?
2.
Baby love knot dress
needs to be lined and topped with buttons
Buttons bought. I got extras which I'll use on the
newly completed variegated baby dress
& the booties too.

[Can I make them item #2.1 & #2.1.1 instead? Makes me feel better than increasing the total tally. LOL]
3.
Mom's carry bag
needs a lining and a zip
Finito though I could see a frog pond trip. Mom's dropped not-so-subtle hints that she finds the handles too long and is changing her mind again.
4. Mom's coin purse is to be seamed, lined & zippered
Done
and of course, there's a small voice whispering into my ear that Mom prefers it with a flip instead.
5.
The beaded purse
I conveniently forgot about this. This project is the reason that I purchased the
chibi
.
6. The black and white project
Which I am not telling you more yet. But here's another hint.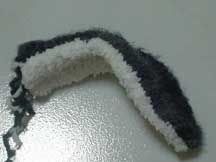 Moral of the story (with reference to point # 4 & 5):
If you are going to hand craft something for a dear someone who's constantly changing his/her mind, have it all penned out in black and white on what's to be expected. More importantly, do not disregard the importance of having credible witness(es) to grace the event.
They are crucial to ensuring your success at winning eventual disputes [that, assuming if you have done everything to previously-agreed specs.]
But she's my Mom afterall and I still love her anyway. (grin) I'll just have to try my best at dissuading her on those so-called improvements.
Time to weld the darning needle!