Lately, I've been busy, busy, busy.
With the apartment renovations.
Learning new crafts.
Gaining momentum in life.
But nevertheless, I've been knitting and crocheting.
Remember the plastic canvas bag that needs to undergo cosmetic surgery? Here's a closeup of the new edging I did.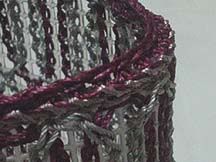 I think the bag straps will be done in pink to complement the bag design as using burgundy or grey may just result in the strap blending into the background.
And here's a mindless project I started yesterday when I was out shopping. (Yeah, you heard me: I never go out without a project, even when I am out shopping.)
Hoodie was getting a little too clumsy for me to KIP (knit in public). I like how this pattern stitch is turning out in the round. Just a tiny pouch.
Speaking of shopping, I bought this: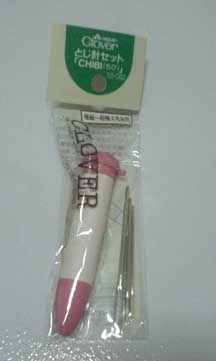 Any surprise? Though I have lived the past 9 years happily with my bent needles, the
beaded purse clasp
just refuse to cooperate with them, belittling me. You know I do rise to the occasions, no? So I just did my shopping trip for the Chibi and also bought more purse clasps too! LOL. I am just asking for trouble, ain't I?
We had a Knit & Stitch session this afternoon. Not only did I manage to finish the hood, I even managed to attach one sleeve on. It's a one-arm knight at this stage.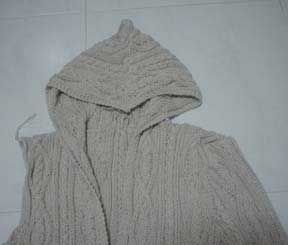 Here comes the debate: To zip or toggle?
Though the original called for a zipper to be installed, this yarn I am using is quite stretchy. My concern is whether it is going to be a task getting the zipper on. Instead,
I am thinking of using toggle buttons ala Mandarin style to accessorize. Maybe 3 sets closer to the top to get some closure.
What do you think?
There's time for debate and conclusion as I work on attaching sleeve #2 and work on all much needed ribbings.
Maybe once we move into our apartment and settle in, I can get back to my leisurely pace again.