If you have been an avid reader of my blog, you will notice that
a couple
of months
ago
there's been mentions of the renovations that is taking place in our newly acquired renovations. Some good and bad news - the good news: it's looking so much better than it used to be. The bad? The handover is delayed until middle or late this month. There are some hiccups but let's not talk about them.

Here's a sneak peak for those wondering how it looks like. It's essentially still bare as we have yet to move in our furniture (which we can't until they have done the floor acid washing), hence the layers of cardboard on the floors.
This is the living room. And you see the open kitchen which is to the left where the guys are standing. A counter top is supposed to in place later. When you turn into the right, that's where the cozy area is.
My next favorite spot where dear hubby's bought a display coffee table (with see through top and sides) so that I can lay out my handknits and toys or curl up with a good knit!
This is our master bedroom in a light blue shade.

Last but not least, this is going to be a guest room. But I will be using this room as my yarn room unless someone comes over to visit and stay....yay! Ok, I did say I don't quite like greens but only when they are to be worn next to my skin.

I am still keeping my hands busy so that I can refrain from throttling the contractor's neck for the delay. I just had to finish up that lilac purse. Yes, with the lining and the zipper installation all by myself! I am so glad I did this as it really wasn't as scary as I thought. Shall we get back to Hoodie soon?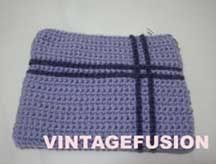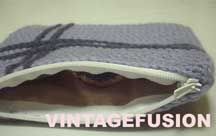 [Edited to add: The pouch has 2 compartments which essentially has a divider piece in the middle that isn't quite obvious in the photo. If anyone's interested, let me know and I'll write up something for this.]