I must have been *hooked on crochet*. I couldn't sleep last night so here's what I did.

At 3:30 am this morning, all necessary equipment laid out.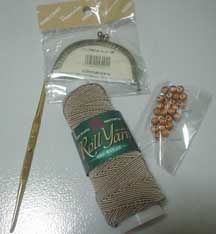 I am gonna do beaded crochet. Dead easy.
Progress at 5am.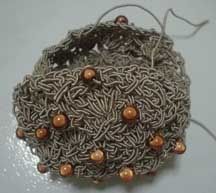 It's so small that I've managed to complete it under 2 hours!
But finito? Not exactly.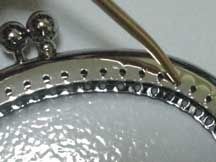 The above "my attempt at an artistic photo" tells you that I just realized my favorite bent tip needles are not so favorite anymore. They're too big for the purse holes! Yikes! Looks like a trip to the LYS is in order. I am going this Sunday :)

It looks like a present that I could give to mom for Mother's Day. She carries lots of spare cash so this would come in handy. An FO photo once I've got it seamed up.


At 5:15am, still not sleepy....what next?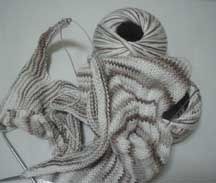 This messy pile says it all. I am on a new project again. This is the state of progress at 9pm today - I am not the fastest knitter in the world.


In between the AM (meaning 12:01 - 3:28), I was busy flipping through the magazines that is in a pile next to me. Oh, and organizing some stash. I am so disappointed that no one has yet contacted me about the
"Something Old & Something New" contest
.
Are you all trying to tell me that I am the only hoarder around?!

In conclusion: If the myth that the bank tellers are getting high on handling US$20 bills tainted with cocaine, we knitters & crocheters must get our high from waaaay too much yarn fondling and pattern magazines flipping.
Yeah, that's what kept me up last night....