Keep my hands busy to keep myself sane. How many times have you heard that? Due to some hiccups, I can't move into my apartment until 2 weeks later which means it'll be early July at best when we're fully settled.
I shouldn't be rummaging my stash as they'll need to be packed away for moving. So a gal's got to do what she has to do -- go out for stash shopping instead. I bought a zip for the hoodie.
See where the zip ends - do you think it's ok?
A baby dress
I also finished this. Ths photo is taken post-washing and there seems to be no visible shrinkage though my stitches are more smoothened out.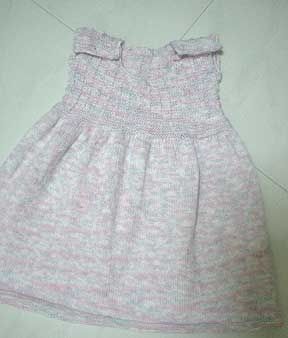 Just needed some buttons to go with it. It's really soft.
And some ironing will help the curling edge too.
Pattern: Pinguoin pattern book

Specs: 1/2 ball 4ply Big Baby Yarn, size 3 needles

Some things to note: Changed pattern for circular knitting and finishing edges with crochet is much easier and quicker

Time taken: about 2 weeks
You didn't think I would be content with this right?
I just went ahead and started knitting matching booties.
It's nowhere near completion and I am getting sick of it.
Got to move onto something else next.
Does this happen to anyone? I mean, getting all psyched up when you start a project, only to have your interest wane when you are into it?