Defined as "A container of flexible material, such as paper, plastic, or leather, that is used for carrying or storing items" by
dictionary.com


If you haven't noticed by now, I love them. Infected upon my mom. I love to buy them but I'll tote a crummy Harrods bag as it's *waterproof* and big enough to hold my WIPs for KIPing.

Here's an attached bag strap and some lining cloth I bought on a trip with Mom on Tuesday. She liked the contrast brought on by the cloth.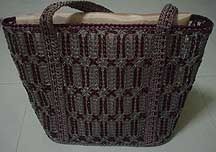 Just in case you are wondering why there's only one strap so far, I've realized that gauge matters. (In my folly, I haven't been paying attention to my twine crocheting technique and was letting too much loosey yarn slip through my fingers. Strap #2 is now been redone.)


Through more rummaging, I also present to you 2 more crocheted bags.

Here's one that my sister made. I just started it and she took it up from there. She carried it to school for about a year or so before it was *retired*. However, she was looking for it lately when we were rummaging for the plastic canvas bag above.


See how used it was? The yarn is so worn and shredding so I may have to crochet new edging to make it usable again. The rest of the bag seems to be in a usable condition; maybe it's the acrylic yarn. If I had used wool, it would have a great fulling time! This time, I may install a lining to help prolong its use?


Here's another.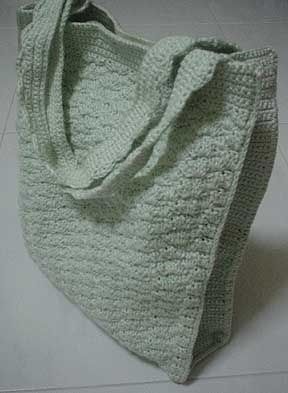 This time, I started with shell stitches and being lazy, I did the front and continued with the base to the back. I just stitched a velcro tape to make the closure. It's made from cotton yarn and I am putting it through a bath. Similarly, I think this bag deserves a lining too.

In disclaimer, in case you are yukking at my laziness, I didn't have a sewing machine back then and I didn't want to stab myself to induce unnecessary bleeding.
As you can see, with the impeding house move, I am also digging out whatever skeletons that are in the back of the closets. Wait till I get to the storeroom!