We had a tie on the zipper vs toggles debate.

To make it easier for those of you who commented, here's a shot of the all sewn up pieces. I haven't gone to the ribbing as there's cables involved and I wanted to ascertain the ribbing length.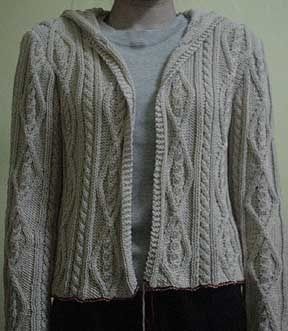 Pardon the slouchy, unruly look. I just put this on hurriedly so that you can have an idea of where the hoodie hits...just a little above the hip before the ribbings are put in.
The hotline is open: press 1 for zip and 2 for toggles.
Deadline for the voting: this Friday evening
I am really thinking that an investment in a mannequin like
Kerstin
did would be a good idea. At the very least, the garments would not be ashamed of showing off and can remain immaculate at all times.
Except I am not sure how hubby would think.
Oh and did I mention I join SP5?