Sounds like tango?
Lately, I've taken to a resolution of taking one step back, one step forward - meaning by taking on new projects, I resolute to get onto my UFOs or WIPs and try to finish them. So I've been taking on one WIP each time to go with my new project.

Keeping that simple resolution is atsounding! So far, I've managed to get these items out of my basket:
1. my duo-colored top -
There are only the armholes and neckline neatening I needed to do.
2. my sister's plain front pouch hoodie -
Only joining of sleeves to the body and making the neck cord.
3. Ms Royal -
Started back in Oct, there was a long halt as I went frolicking in the frog pond.
4. FBS -
Ended too small; undid and added more repeats until the yarn barely ran out!

In short, those items corresponding to my
entry here
are all done!


New FOs
Here are the new FOs to boot.
1. Ms Turner, which I completed yesterday.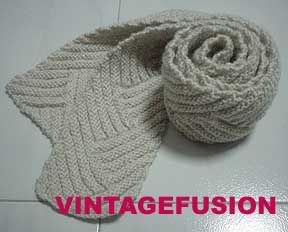 Pattern:

Short rib scarf from magknits


Specs: 3.7 balls of Cleckheaton Country 8 ply, 50g (100% pure wool), used Clover 8 (US 4.5mm) needles
Some things to note: There are some mistakes on the pattern but nothing that is difficult to fix. The repeats are easy on the memory - I did 19. This is a great knit; possibly becoz of the wool which is springy and 100% more forgiving than those cotton yarns that I always use.
Here's the model shot.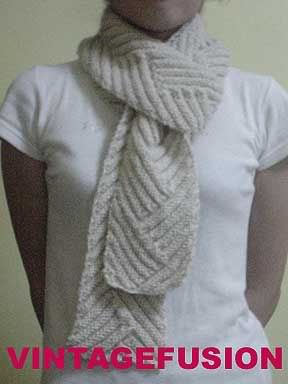 2. Baby loveknot dress
I'll consider her done at this point. All she needs is 2 crocheted buttonholes and 2 buttons; and then a lace sash threaded all around her bodice. She'll probably fit a 9 month old gal.
I'm thinking of some lining beneath to act as a sheath so that the little tod will not attempt to poke her toes out and get caught unecessarily. But then again, with this form of crochet stitch, this dress is definitely not an everyday wear! LOL.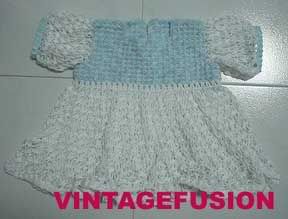 Pattern: Baby crochet loveknot dress
Specs: half ball of baby yarn, 2 balls of 4ply crochet cotton; used crochet 3/0 & 4.0 hooks.
Some things to note: There are some mistakes on the pattern but nothing that is
difficult to fix. This project took me a while to get completed as the baby yarn used on the bodice isn't exactly quite suitable for the loveknot stitch below as the yarn gets unplyed.
Now I have to say: new projects here I come! Do I get to buy more yarn too? (grin)