I love to surf blogs and always fall in love with patterns that others are working on, marvel at their FOs and wish fervently that I can be an *octopus* so that I can knit as many project as I want.

For the past few days, I was keeping a distance between the PC and myself. I have to resist temptation. I wanted to spend some time and rekindle old flames... Ms Royal is so close yet uh, so far away. But she is: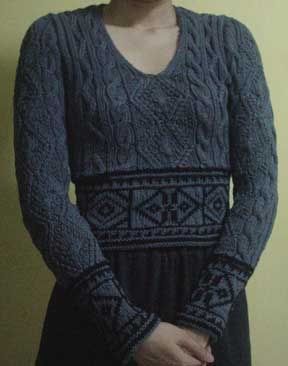 She's that kind of lady that you can't wait to show. Just ignore the distracting hair wisps; I just bun-ed up so that I can show the neck region better. I like the way she fits.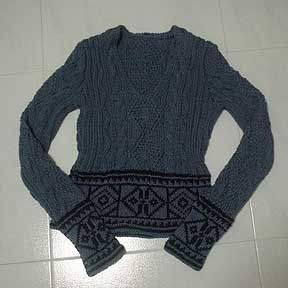 Pattern: VK Fall 2002
Specs: Butterfly Cotton - Super 10 (125g) - used 3 skeins blue & 1 skein navy blue; used US6 (4mm) & 3.5mm needles.
Some things to note:
I started with both sleeves first as I wanted to get out of sleeve island quickly. But there are some false starts: the chart was erroneous, it's an integrated chart so you have to interpret repeats yourself.

I did the body in the round as the fairisle made it difficult to knit front and back when you have to consistently compare the sequence. The body shaping (i.e. decreases close to the fair isle region) makes you think harder too.

Also, I was anal enough to care about the symmetry. So the cables on both sleeves are made to mirror the left & right twists as on the body. Same for the front & back pieces.

I'll have to say: this piece is great for a mental workout!
She'll now go and languish in a nice bath...I've been rough on her with all that ripping and reknitting.


And me? Back to the baby dress. I am still working on the sleeves.

FBS
I also did a RIP! on the FBS (Flower Basket Shawl) along the bind off edges. If you wanted to know what resulted in my pond trip, read about it
here
.
Here's what I did, just unbind the edges and tug on the spilty yarn - there's like *4-5 strands* of cotton thread in that yarn. Then once you get past the border edge and to your desired start point, just insert your needles back on. Yes, I used *NO* life-lines. I don't believe in it!
I am very lucky that since I have blocked it previously, the stitches are fairly tame and they cooperate. But there's also the die-hards, that just slipped off.
There, use your imagination as I am not about to post a gruesome picture. It's not for the faint-hearted.
Back to my FBS and knitting along ...