Yeah, it really is. For the second day in a row, I have completed another WIP. It's my duo-tone blouse. Here is it.
And here's 2 recent FOs that I have yet uploaded to my photo albums.
Hoodie pullover with front pouch
First, a hoodie pullover that's finally being put together, after being a 3 yr old UFO! I came to realize why I took that long to finish her. It's one of those case of "oops, I did it again!" (buying short of the required skeins) -- in the end, I had to finish the sleeves in a completely different dyelot. It took me some time to get over the fact that I didn't want to rip and accept that different colored sleeves can be design features too. (but I made sure that I started the ribbed cuffs with the same body color to ensure consistency)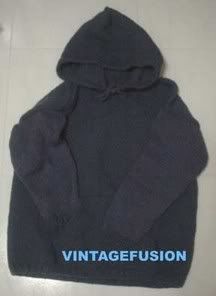 It came out the way I wanted, big and comfy; for my younger sis. For an acrylic yarn, this is surely very warm! Hopefully it will turn out soft after washing. There is a front pouch, in case it didn't turn out clearly in the picture.
It's supposed to be a tad lighter in actual.

Pattern specs: UK Woman's Weekly, done on 12 ply 100g Magnum yarn. Took about 4 balls.
Duo-tone shell done!
That's the other one that was completed just yesterday. It's mainly knit stitches with some garter rows thrown in. Comes with a moss stitch border and has side spilts. Managed to block the armhole crochet finishing a little today by just hot-pressing using the iron.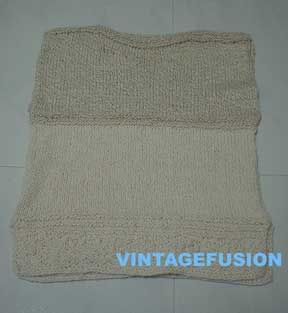 I am sure you have heard this previously. I took this pattern from a baby/kids book, thinking that I would whip it up as a b'day present for my friend's 3 yr old son. But when I am done, I was horrified to see that I could *actually* wear it myself! Yeah...in case you laughed, I am on the waify side:

in-born, not deliberate

. I wear a Mango size 4. So it became something for me. That kid got a knitted something else. :)
Pattern specs: From some baby/kid's book, knitted from Sirdar Primavera @ 50g, 125m each. I think I used 3 balls.
I still have about 2+ odd balls of this (in both colors) left. Any suggestions on how I could use it?
On the comments
Thank you all so much for your kind comments on Brownie. She's getting so happy as she's sitting next to the laptop, peering onto the screen.
If anyone's interested, she's made from 8ply 100g ball Magnum yarn, and is from Jean Greenhowe's Traditional Favorites.
And she also wants to say hi and welcome to all visitors, it was fantastic reading the map to know that we are truly becoming a global village as almost everyone's signing in from all over the world!
Pioggia asked:
"I'm surprised you only used up one ball for the two fronts of your (Saffron) sweater. How many ounces per ball do you get?"
The yarn I am using is Sirdar Pure Cotton 4 ply. It comes as 100g ball with 370 yrds or 338 m approximate. I am making the cardigan to a 33" bust size fit.
Oh, and did I mention I learnt grafting the other day? On the first sleeve I started, nonetheless. Apparently Rowan has a habit of teaching people, as per the chart, Row 1: Knit, Row 2: purl. Then follow chart as set out. Err....I know that, but I musta been dreaming as I knitted that 2 extra rows, then embarked on the chart. What a twit! But thanks to the Interweave Fall 2004 issue (in which FBS is featured), I quickly consulted the grafting article and did it!
Very scary for a newbie! Yeah, knitted for 9 years and never really done grafting. My first ever attempt was 2 yrs ago on a diamond lace pattern which failed miserably and now this.
Glad it's over but I am sure when grafting need arises again, I need more chocolate! I finished an entire
Valrhona
bar during the session!