Here's my progress on my sister's hoodie. I am starting with the back this time so that I can make out the yardage needed. I only have 20 balls for this. This is one ball status so far; I started this yesterday and is quite pleased that it's an easy knit. Compared to the
pink asymetrical sweater
!
As for "one at a time" policy? Let's see how long I can keep up with that LOL! I'm already thinking Ms Mariah but am just thinking if working on different sets of cables are enough to confuse me. OK, go ahead and punish me; I am just greedy for cable work.
A surprise package
This made my day: my dear friend Cherilyn from Canada has just sent me this knowing that I love making toys!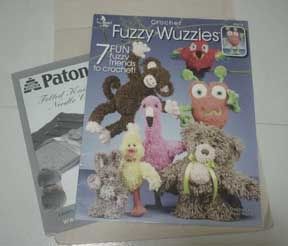 What a great booklet!

From the comments
winnie asked…" Hi, how is the FBS in cotton? I plan to make one for a friend of mine because she is allergic to all types of wool. When you block it out does the yarn still reveal the beautiful pattern? "
I didn't want to be rude but I can't get hold of you Winnie! Blogger doesn't quite kindly provide me with your email addy when you comment. For your record, FBS in cotton is lovely; it provides minimal but adequate coverage on a summery evening. And it does block out well too (from my previous experience).
Those wanting to see my new FBS will have to be patient. It's taking a while as I search for a sufficiently large surface area to block it out.