If you think that I really learn my lessons, you would be so wrong.
While I was thinking to think of a way to re-work the neckline of the crochet motif tank, I started a new knit project.
My motivation? The sweltering heat.
The
crochet cotton
,
knitted silk lace tunic
,
silk fitted collar blouse
&
bamboo
tops that I did previously fared so well under the sun -- yes, I wore them out and walked the streets; braving the 30 degrees Celsius or 86 Fahrenheit. And I didn't faint nor sustain any heatstroke.
What a great way to add an additional piece to my wardrobe!

I had this tank knitted circularly or in the round as many call this. Not only that, the yarn itself is a flat ribbon that is extremely shimmery due to the two-tone yarn construction. Initially I have my reservations about this choice as I've always been been a plain Jane - solids are top of mind. This yarn, on the other hand, is on the other end of the scale. I shall call this project
Ms Shimmy
.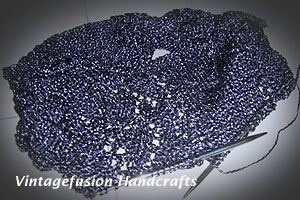 Ms Shimmy grew fast as the yarn is very slinky and slick. In fact, I had to exert slightly tighter tension to ensure I don't lose grip when I knit without looking, such as when I am on the MRT train. As I worked on it, I decided that the shimmer is subtle and in fact, I have grown to quite like it. And soon, I was able to try Ms Shimmy on myself.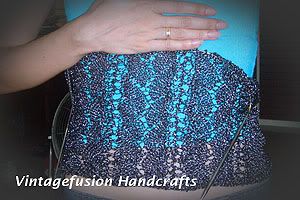 I do this all the time. I just hate the idea of trying on only when the tails are tucked in because it'll mean
more blood and tears
if the garment doesn't fit as well and you have to do the inevitable ripping.
[Believe me, it can be really a hair pulling experience if you can't find the ends you tucked in so well!]
Then it was the joining and attaching of straps. Surprisingly, this yarn is very lightweight and pleasant next to the skin.
However, at this point, I am sure you no doubt see what the problem was --
the straps are a little too skimpy
. Moreover, they are spaced wider apart than I would have liked.
So this slinky little number is going to take a rest in its corner for just a wee bit until I can see myself wading back into the frogpond to revive it, along with the rest of the other projects.

Seriously though, I aim to be pals with Ms Shimmy real soon, before the rain comes along.

In the meantime, I'm moving along...