To my knitting, that is.

Even though I profess my everlasting love for knitting, I have been having fleeing thoughts about my other partner, the crochet. In fact, the signs are all there: the latest Japanese magazines has been featuring lots of crochet....the glossy spreads tempting me to stray while the knit trends seem to steer towards beginner projects for the newbies. With the impeding arrival of winter, chunky knits takes prominence and that is not helping either.

So I dug out my old projects.

See these 2 pieces? Can you even make out what they are?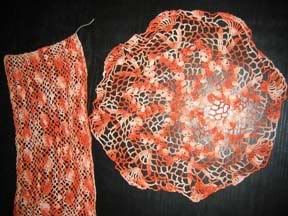 I started them and blogged way back in
(get this...)
November 2005. That's about
2 years ago
!!

It was time to put them to rest. So I took a deep breath and ripped them all out. Yup...I couldn't bear the thought of them trying to catch my eyes and make contact from time to time; just peeking out of the WIP basket.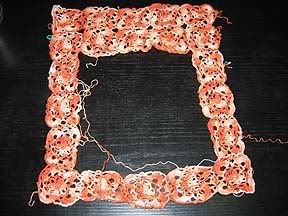 Then it just struck me why I procrastinated whenever I get myself emotionally involved with crochet. Those ENDS!!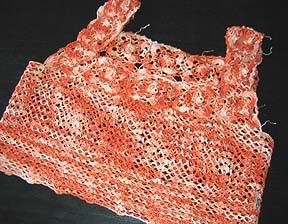 As the pattern moved onto the mesh lace pattern, it got a TAD easier. But the tiny crochet hook just makes my finger hurt as I crochet quite *brutally*

(I notice that I tend to exert a lot of force when I crochet. It's an old habit that I need to break, really...)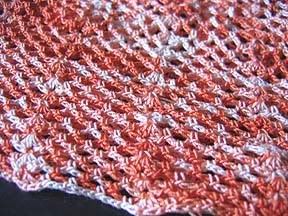 Just barely. As I was pretty particular about the fit and the color variegation, I took

3 visits to the FROG POND

; each time getting a little smarter. You can never imagine how much torture it was. Is anyone as finicky about color variegations -- letting nature take its course? Or do you try to manipulate them?

The first time I crocheted in the round, the colors pooled so badly, while going diagonally. I tried to convince myself that the pooling didn't matter. However it really got to me so bad that I decided to rip back even though I was more than 3/4 through.

(And the pooling result was just so hideous that I didn't even want to take a photo of it! Tsk tsk.)



But I am glad I did as I am quite pleased with the final results.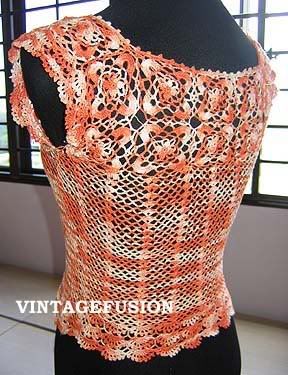 This pattern is from the recent issue of Keitodama, I think. Took me about

3 weeks to complete

it.

The modifications I made are quite aplenty.

First, I changed the pattern to crochet in the round (or is there such a term as

circular crochet

?)

Then apart from sizing down to fit, I also re-sculptured the bodice so that there is waist shaping (the original pattern is totally straight cut). I also modified the sleeves by cutting back half as the updated style is really more *me* (whatever that means.)

As of now, that finished tank is still dressing my mannequin. I decided that an astrology consultation is in order to ensure that I will follow through with the

zillion tails tucking marathon

! *groan*

Now you know why knitting seems like a more attractive option to me!

(Oops...as I am preparing to post this, I now noticed that my latest color is the orange family?!)