After a long break (from CNY to date, it's about 6 weeks or so), I am finally getting to knit for myself again.

No, I didn't touch the red mohair lace as I wanted a portable project that I can tote around without having to refer to the pattern chart too much.

So this is it.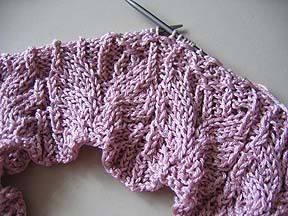 I had started this project in the round as the pattern calls for SSPs and YOs on the wrong side as well. I casted on for it 2 weeks ago and the progress is coming along quickly.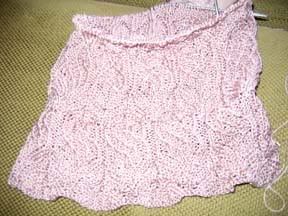 As it contains silk, the phototaking is a challenge as the light reflects badly, depending on the angle. I am pretty much a novice when it comes to photographing.
It's coming to the waist so hopefully I can be done by April!
On another note, I have taken my Mom's silk tunic for a test-drive.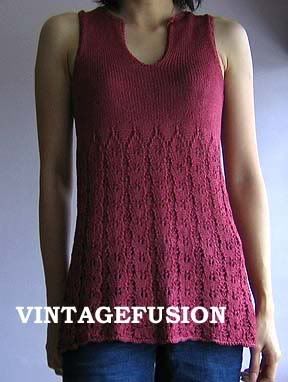 Ok, I know I am *technically* not supposed to. But since she left it at my apartment, I suppose it's ok that I wear it?
It's really cooling to wear and at the end of the day, I have nary a bead of perspiration. That's what motivated me to go silk blend for the above project for myself.
Oh, did I mention that the yardage is incredible? The burgundy tunic only took 5 x 40g balls and you can see how long it is! I am hooked!
[Edited to add: The pattern is from a Japanese magazine, Keitodama #106 that was published in year 2000 so I am not sure if it's still available. The thing I did was to merely tweak the pattern to get the desired fit.]
PS. Thanks for the compliments on the tunic. The turquoise top is a pattern from a Lang pattern book (Updated details are found in the earlier entry itself).