Remember last year where the craze was all about
Lady Eleanor from Scarf Style, by Pam Allen
?
It got me very intrigued. I love the entrelac pattern but really can't see myself spending a lot of time working a shawl like this.
So I decided to use the entrelac knitting concept and created something else instead.
On a particular day in Feb this year, I browsed some of my references then went to bed at 11pm.
However, I was so pysched up by the idea of entrelac knitting that I finally got out of bed at 2am in the wee hours of the morning to get the project started.
Crazy isn't it?
Does this ever happen to you? I mean, getting so bothered (or jazzed up) by a project or a roadblock that you just can't get to sleep; you end up forgoing sleep to be awake through the night to straighten out the problem or start a project?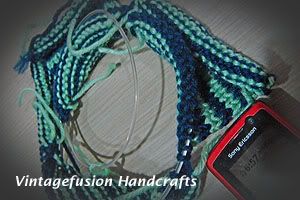 I had the phone placed in the picture to remind me of my crazy obsession with my crafting. The time:
6.57am
.
Once I manage to grasp the concept, it wasn't that hard to knit this project.
(Hint: This project isn't going to turn out rectangular nor square.)
I love the way the navy blue and turquoise green complements each other. And if you have been following me for a while, you will realize that I am rather a Plain Jane.
The only thing I detest about entrelac knitting? Look at the amount of tails I have to tuck in!
The project is now temporarily on hold as I get distracted by
the
other
posts
.
There are so many things going on that I figured that the way to get things back on track is to blog more frequently!