Last Tues, I was really sick. I was coming down with flu and cough so I decided to stay home. The self-imposed one day quarantine is of my own will since the H1NI virus news was splashed over the news and I didn't want to deal with suspicious scrutiny if I do an occasional nose blow or cough when out in the public.
So I spent the time browsing pattern books and decided that starting yet another new project is the best way to go.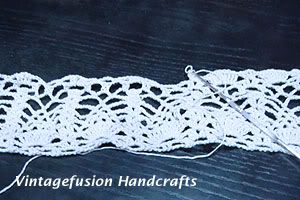 It actually progressed rather quickly, save for the one-time major rip back as my brain was clouded by the drowsiness-induced flu medicine prescribed by the doctor.
If I am lucky, it may be finished right within this month.
Blog revamp
And if you have been trying to access my blog directly for the last few days, I apologise for this blog's intermittent loading issues.
This blog has been around since Sep 2005 so it's coming to be 4 years of age soon. I figured a blog de-clutter and revamp exercise is necessary so I plunged straight into it over the weekend -- I've been meaning to get around to doing it but well...
I may be doing some fine-tuning work over the next few days so once again, thanks for your patience.