Oh no. Not for Ms Saffron; she's having a nice soak in the tub. I am hoping she'll emerge poised and fitting. When I tried it on yesterday, hubby gave a snort. He says it's too girlie looking for me. I kinda agree since I *never* own any cardis before. Oh well...let's see how it goes.
From the WIP basket
I am back to Ms Fairisle - her *royal highness* (literally). I actually like her a lot. Now you don't normally see me posing in unfinished garments right? But here's a shot: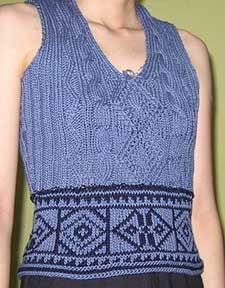 It's quite a body hugging piece*, isn't it? Well, in Singapore's weather, there's no need to wear anything under so I think this will get worn a lot.
What's outstanding? Actually I *suspected* all along that the sleeves are a little short. So now that it's confirmed, I am ripping out the cap sleeves and re-knitting another pattern repeat or so to get it lengthened. This time, I would rather they go over my wrists.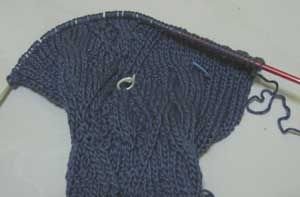 I am trying to get it over and done with so that I can start on my sister's project next! (And Mariah for me too...)
Scarf votes please
Oh yes, and you didn't think I would be content working on only one project huh? Here's a scarf I am trying to knit up. 2 patterns here -- tell me which one you think the variegated yarn is better suited for.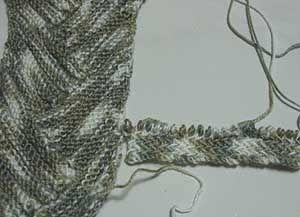 I like the right hand version but so far, there's 2 family members' vote on the left version. Post me a comment on which one's your choice and I'll just go with it.
From the comments
Lolly from
LollyKnitting Around
said, "Your cardigan is so pretty! The new buttons look very nice on it :) I really like this white cabled sweater too!Take care!"
Yes, I really loved its design that I originally bought this pattern book so that I could knit it for myself. But since my younger sis requested, I can't turn her down, can I? What's more, I can still have Mariah for myself. No, we're both sized differently so no clothes swapping :(
Renovation update
We will be going to do tiles selection (for the floors and walls) tomorrow. The designer explained that they would base the color scheme on the tiles we selected. Duh..but I pretty much know what I want for the walls. Really light greyish lilac...not sure if it makes sense to anyone.
They have given us an estimated completion date of end May. I hope they really do.
I am finding it increasingly *difficult* to hide my stash in the house!
* I've got to say: my photography skills is really crap!