Luckily, I had an extended deadline as GT said that we'll be presenting the gift at the baby shower which took place last weekend.
"Progressing at a good rate?"
Spoke too soon during
my last blog entry
.
I thought of minimizing seams on this project that I actually decided to knit the raglan sleeves downwards. Not that it's a problem, except that I wasn't concentrating on the maths.
Had a OOPS, SHUCKS! moment with the sleeve.
Not just once, but both times.
So frogpond visiting it was.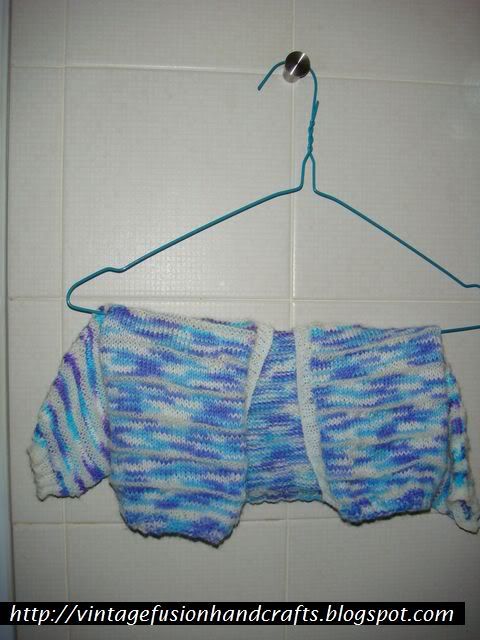 Once it was complete, I also gave it a good wash so that the project would unfurl. I just simply hung it on a clothes hangar and left it to drip dry in my bathroom.
[This would NOT be recommended if you are having an adult garment!]
A good steam iron also helps!
Initially, I was also faced with the dilemma of how the patterns would go on the sleeves themselves.
As you can see, there are actually 2 different shades of variegated yarns. Thanks to careless packing by the shop assistant
(one of my many yarn shopping trips eons ago!)
I had 2 different dyelots.
As a result, not only are the colors distinctly different, I was rather short on yarn. Had 3 balls of one lot and 2 of the other.
So I took on a white yarn to break up the colors and also had a slightly broader stripe on the upper chest area. The same white yarn then also took on the role of as ribbed borders all over.
And I had just the simple translucent buttons to match.
Oh, and I had the handiworks tag sewn on it as well! (Too bad, it wasn't obvious in the photo.) And the baby's initials JT embroidered on the bottom right corner.
Here are the specs:
Pattern:

Self design


Fits:

One year old (I try to avoid baby items unless they are certain to be used - babies outgrow their clothes really quick!)


Yarn quantity used:

4 x 50g 4ply variegated yarn + 1x 50g white yarn


Time taken:

1.5mths intermittently
I am glad the baby's parents liked it!
PS. I know there are probably still some readers out there. Do let me know if my blog entries are boring you to tears. Apart from my customers, that is. :)