Once every so often, a baby's impending arrival would jolt me from my rather erratic knitting and crochet schedule. This time, it was my husband's colleague's announcement.
Funnily, men just don't remember to inform you early. They just prefer a month's notice and when asked, the reason simply is, "I forgot."
Hmmpf...
GT suggested that I could go with the usual suspects - small pair of booties or socks. There was a pair that I knitted and gifted previously to another colleague of his back in 2007.
(Gosh, that sounds so long ago!)
Obviously meant for a baby girl, with the cute pink flowers on the cuff.
But I am just not in the mood for socks.
So to bring up the challenge factor, I decided that a cardigan would be "IT". And while at that, I figured that using yarns from my stash would be good.
After all, detashing is good. This helps alleviate the hoarding madness.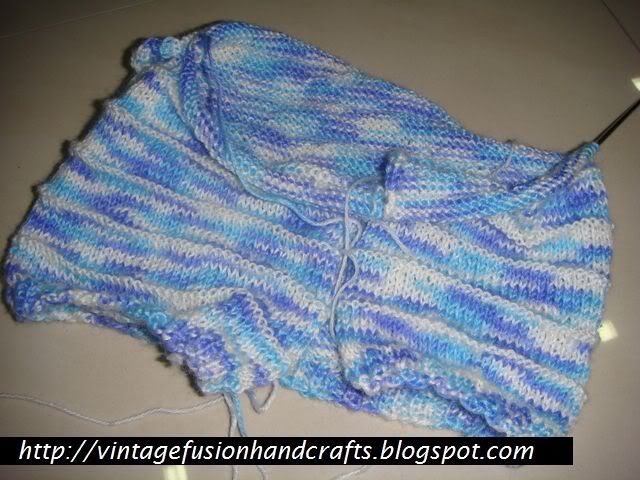 As you can tell, it's meant for a little boy.
I have opted for a whole piece rather than the standard 3 piece (one back and 2 front pieces) approach as I wanted it to be portable. Besides, who wants to do more sewing?
Rather than to go variegated all the way, I have used a solid white yarn for garter rows to break up the colors. Besides, it's always a relief to the mind since the scheduled section breaks make me feel that my project is growing.
It's progressing at a good rate!