Looks like meeting the April 30 deadline is going to be a breeze for
some of the gals in the group
. In my case, the silk blend top is halfway through.


You know how I like to try on my knitwear as I progress along. So as soon as the body's completed, I seamed the shoulders.

And can I say that the mannequin is showing off the garment than if the piece is worn on me personally? The model certainly has a great bod with the curves in the right places.

There's supposed to be sleevework and a collar to be knitted in as well as I was originally contemplating a long sleeved top. Here's a sleeve started.

However, I am having second thoughts about it. I was thinking of converting it into a sleeveless dress or maybe a skirt to match instead. The gals are egging for the conversion too. What do you think?

While mulling over the decision, I decided to go back to my red lace mohair.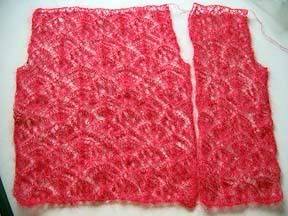 Honestly, I think it's a bad decision. It was a UFO from last year which I didn't had many notes taken to mark where I stopped. After I finally found my spot, I knitted on happily. I was gonna announce that I have completed and is moving onto the right front when I realized the boo boo I made -- in my haste, I forgot to shape the neck edge. How careless is that?

So once again, into the frog pond it'll go. As you can see, my knitting hasn't been too productive of late!