Again, during the time when I was just totally undecided about how to proceed along with my top, you gals came to the rescue! It seems like an overwhelming number voted for no sleeves. So I may just go along with that. But not before I pick up the collar and see how the top looks.

As for the skirt....now that is really an open discussion. I am thinking of a simple A-line cut with minimal fuss, with just perhaps a matching trim?

Mohair Missy also gave me a headache with the rip-back so I wasn't too enthusiastic in working with her at the moment.

While I ponder on these, I got started on another project last week.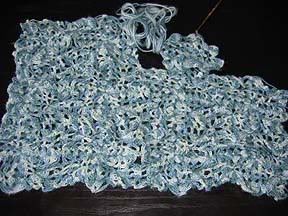 My partner in crime did this to me -- specifically
one of the gals
who veered off the path and started off a crochet project instead of working on her hoodie.

This yarn has pretty good mileage. The photo below shows how much yield from a single ball.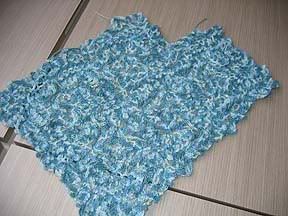 For the past few days, the pace quickens.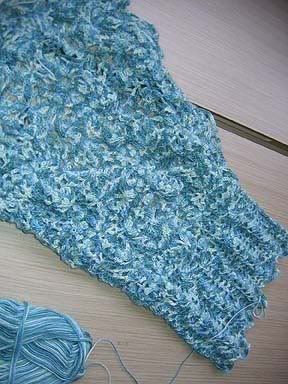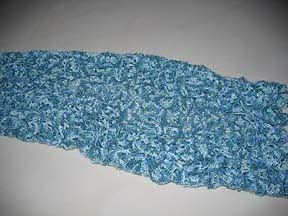 The spurt of growth came as a result of my joining GT for a session of football watching -- the 2.45am live telecast of Liverpool vs Chelsea a few days ago. I managed about 12 rounds worth of crochet amidst the match viewing.

Then, the incredibly cute mini shrugs knitted by one of the gals also fired my fervent interest to resume knitting for my niece. The result is almost immediate as I casted on for the piece yesterday.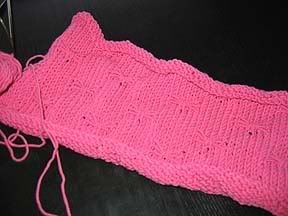 I think it should be ready by this weekend if all goes well since I managed to wrestle her down to get her shoulder measurements quickly to prepare for seaming.

So I have resolved my dilemma of not delivering on deadline by throwing myself into starting new projects as an excuse for deadline extension. What a great way! *grin*