Now that it's Xmas time, things are a little quiet around here as most of the gals are either away for holidays or making preparations for their Xmas celebrations.


So I got busy with my own knitting.

The baby garment that I am working for my niece is almost done. I just need to dunk it into wash before I piece it up. And since these denim yarns are supposed to go through a round of color run, I've decided to wait for Susan's poncho.


Hubby returned from his Aussie training and he brought back those fingerless mitts -- the ones that nearly didn't manage to board flight.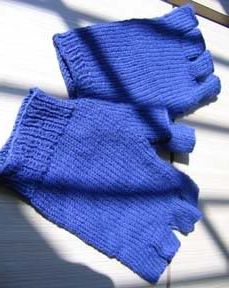 See those uneven cuffs?

I got down to ripping out the shorter side and adding rows to it.
They are pretty big on my hands.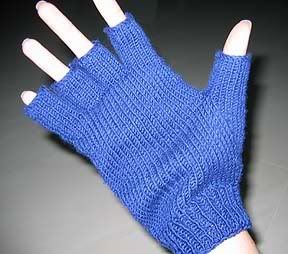 But they certainly fit hubby's enormous hands well!


He also bought me a bag fulls of gifts!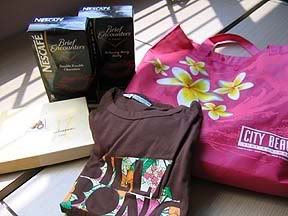 Those coffee are Nescafe limited editions...I haven't tried them out yet. That tee is my very first Billabong! (Haha, I know, surf brands are very common in Singapore but I just didn't seem to get around to owning them.)

The time when hubby wasn't around, I also attempted some baking. Well, not real baking since I had a microwave/grill oven.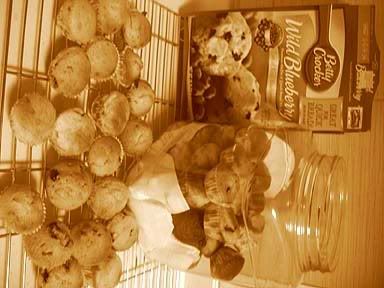 But those turned out pretty ok -- I'll rather not scare you with true colors as you'll end up deciding that my skills in the cookery dept as dismal. [grin]
I also wrote an article the other day which I posted at the other blog. It's meant to be a thought-provoking piece to let our families and friends know why we choose to knit -- it's doesn't mean when we decide to gift them hand knitted items that we are stingy. Rather, the time, money and effort frequently outweighs that of a store-bought item.
So hopefully the next time when an acquaintance requests that you knit something for them just because you can, do educate them!