Just last weekend, my hubby had to travel overseas for training exercise. I casually asked if there's anything that he would like me to knit for him and he suggested that fingerless mitts would be the thing that he could use.


So I did.


And instantly remembered why I so detested knitting socks and gloves. It's not like I have a phobia or anything; but knitting small circumference tubes just makes for fiddly work. My fingers feel so retarded.

The dpns are simply for photographic purposes. I just prefer to use two circulars to knit with as my tension seems to be more even compared to when using dpns.

This pair of fingerless mitts also taught me that

procasination may result in increased heart palpitations

.

I had the first mitt finished on Saturday. He was due to leave Monday morning on a 7.30am flight. Loads of time, I reckoned; as I simply took my time to cast on the second mitt only on Sunday evening -- all the mini finger tubies as you see above.

Then Monday morning, I was at the airport 4am with all the four finger tubies ready to be picked up and knitted -- oh, the thought of knitting the mitt with breakneck speed within the next 3 hours gave me such an adreline rush!

After a quick McDonald's breakfast, the thumb was joined at 5.30am.

Dear Hubby walked over at 6.45am asking if his mitts are ready. Ready?! Man, I was knitting the k1, p1 rib as quickly as I can. In the end, I handed him his pair of mitts.

Alas, the second mitt has its cuff half an inch shorter than the first. Do I care?! By right, I should...but by left (pardon the pun), I don't! I'll lengthen the cuff to match when he returns with them from his trip in 3 weeks' time.

So as you can tell, the time is so tight that I ended up not being able to take any photos!

My knitting life isn't as exciting at this point
as the gals
but I don't mind. Perhaps I should take some time off the mohair lace project to start something new?


PS. Thanks for all the kind wishes. Let's just say that the restaurant hasn't quite bothered to reply nor follow up as yet (I ended up calling them only to be told that their boss is busy and will only revert sometime this week -- and it's already Thursday!) so I'll see what happens next!
PPS. Aha! And I wanted to say a public thanks to the gals for taking time to celebrate my birthday too! Let's just say that they are such nice people and had initiated a dinner and dessert session in town -- a casual friends get-together involving great food, sinful desserts and lively banter.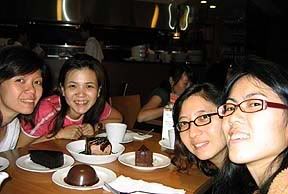 See how those desserts make us all beam with delight?