Since I last blogged.

I've been away for a short trip to Shanghai -- to catch up with some good friends (who are my great ex-colleagues during my China stint), do a bit of shopping and also eat lots of good food.

Other than that, the lessons (or rather my students) have been keeping me busy. Lots of projects are being started, tackled and some are now off the needles.

During this time, I also started some projects. [I am sure you are expecting me to say that, didn't you?] I am a knitaholic -- I may not knit from dawn to dusk but certainly knitting and crochet is a huge part of my lifestyle. Yes, even when I travel overseas, there's bound to be a project or two in my carry-on bag. [SQ flights allow you to bring on your knitting projects; I even brought along a crochet WIP. I just had to *flash* my projects as the X-ray detected my crochet hooks! LOL]



This is a lovely bamboo/cotton blend yarn that I just started carrying. It's so cuddly soft when I am knitting this garment up! In fact, I think I will earmark this yarn for some baby projects due to its comfort and cuddly factor.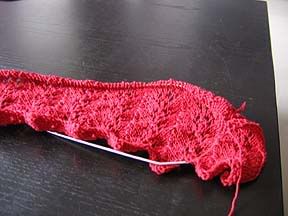 This is a not a FLASHBACK. I took out a new ball of that dysfunctionally-uncoordinated red cotton yarn to reknit
that project
. This time, the project should continue without a cinch (it's actually now longer than what's shown in the photo) as I am rejvenated and refreshed after that mini-holiday break.

Besides, I enjoyed sipping the tea sachets that
Becky
my tea swap partner sent! I am so in love with the
evolution's
Earl Grey Lavender infusion tea -- I wonder if they ship international? Hubby's already eyeing my Yogi's Cocoa Spice packs!

Other than that, ready for the FO reveal?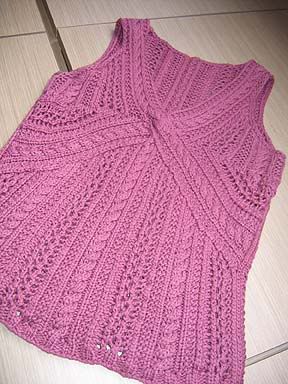 This is a very modest looking tank. And the best part?

This tank top:
- knits up using 5.5mm needles,
- uses around 6 balls of yarn and
- is totally wearable for Singapore's weather!


At this point, hubby's already asking about his *finished* sweater.... "Yes dear, they will go into the washer

next

!"