Despite my run-in with hubby's ginormous sleeves (which I am happily attaching them, *finally*), I have started a few things...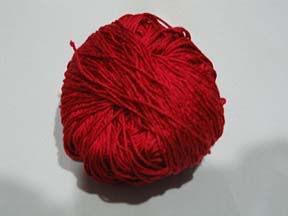 I have decided to knit something out of it.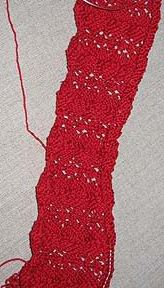 Just when I am having fun and enjoying this new lace project, I decided that the lonesome ball I had won't be sufficient and a call to the supplier to order the extra yarn is in order.
Then the bombshell! The dye lot is totally

out of stock

!
Someone call the police! I obviously have misplaced my knitting 101 when I started this; thinking confidentally that the yarn dye lot is available since I acquired that ball just 2 months back!
In reality, I was very tempted to send it back to the frog pond but I thought it was too cruel to have that red yarn make the trip twice. So there's a plan in place to rescue this project: I am not going to rip what I already have knitted but I'll modify the pattern.
Apart from this mishap, I had fun exploring some new yarn. And I came up with this:
I like what I am seeing and feeling so far so this will be a good one for me.

Keeping my fingers crossed that it'll be completed this week!