And I am back!

In case any of you is wondering, I've been so thoroughly discouraged by the lack of progress on hubby's sweater that I decided to take a break and focus on other things. Mainly on
welcoming new students
, and learning to cook (gasp!)

Everyone knows how to cook but cooking well is another thing. So I've kept myself busy in the kitchen for a bit.

Thanks for everyone who checked in on me...I just didn't realized that I have been away for that long until I looked at the last blog post date!
There were some great packages that arrived during this time that I absolutely *had* to share!
A great Tea Swap Package!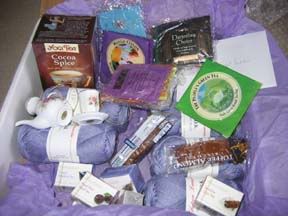 Here's the great package from
Becky
, my swap partner! She has enclosed an enormous amounts of tea of various flavours -- let's see: we've got Cocoa Spice, Mango, a whole lot of Peet's tea, samples from Evolution that includes Honeybush Caramel, a great Tazo variety (I bet she sent me the entire range!) and some licorice spice herbal tea! Not only that, there's a lovely tea cup & tea pot ornament set!
Did I forget to mention the lovely chocolate toffee almond biscotti? My hubby has been eyeing those enviously but he's definitely not getting those!
There's also some lovely yarns (all 5 of them!) for me to knit myself a summery top!
Thanks Becky! This is definitely awesome!
And if it wasn't enough, the Dye-O-Rama package came in too!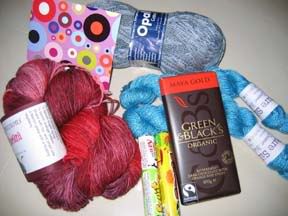 The entire package is so sweet-smelling -- must be due to the Koolaid she used for dyeing!
Emily not only enclosed her own handdyed skein of yarn; but also included more goodies such as Debbie Bliss' Pure Silk in a lovely turquoise, a ball of Opal Cotton (noticing my love for sock yarn and so a cotton option for our weather!) and an all organic Bittersweet dark chocolate with orange & spices (how does she know I love orange chocolate too?!). To top it all of, chewy fruit gums!
I've been really careful to reseal the envelope; removing just the perishables (like the chewy gum and chocolate) so that the yarns can continue to bask in the faint sweet scent.
A ball of Fortissima Colori Sock Yarn! I can now envision a lot more socks in my wardrobe!
Thanks Tam!
You gals rock! Those are great pick-me-ups and have definitely motivated me to get back to my knitting!
Next up: the projects I am working on...