Thanks for the compliments on the tank top. Yes, it has to go to Mom as I have earlier promised her. Besides, the armholes are a little too comfortable for my liking. We'll see if Mom will agree to play model for that top.

Tank tops are really popular in our weather. Besides, they knit up faster as there are no sleeves to work on.


Here's Mr Sockie and pal getting a sunset soak... the new FOs for the month of February.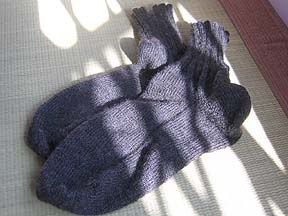 Let's see if hubby would agree to model these. Ever since he knew these are knitted from wool (I used Regia 4 - 2x 50g balls of it with extra left over), he's been insistent that these wouldn't wear well in Singapore's hot summer weather. In case you are wondering, we're already feeling the heat now.
But then again, he's always been the heat-intolerant. So why is he surprised that he isn't getting as many handknits? He's got 3! [See that bottom left cube in that post?]
I'm going to work on Mom's shrug since she will probably appreciate handknits better. [smirk]
I've also started and completed another FO within a day. 2 FOs for February. I know this is going to be a good month. This project is

meant to be a gift

so I'll just show you a swatch. I hope the recipient likes it.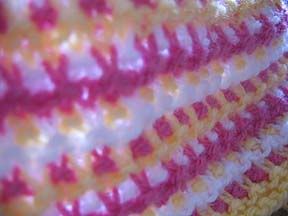 Oh, and we had the Chingay celebrations last night. I'll try to post some photos tomorrow.