I was looking for some finishing thrills. And where else to look for it other than my UFO box!

I took out a ribbon tank top that I knitted up for mom over a year ago. The pattern was made up as I went along. It was resting in the basket as I wasn't sure of the amount of ease she prefers around the armholes.

Yesterday, I managed to finish that ribbon tank top. Yes, when it comes to

designing

, it seems that my brain keeps calling out "simple patterns".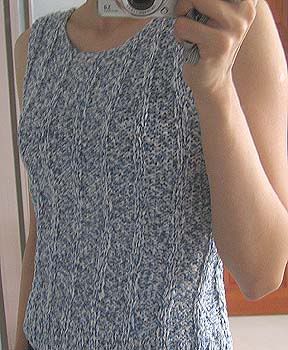 You can't really make out the ribbon yarn unless you see it in person but the texture's very crunchy. I love to hold the garment though the knitting hasn't exactly been fun. You see, the yarn's more like what they call a railroad yarn so extra care needs to be taken to avoid sticking your needle through. I have to say I love the end result though. (Did I say I have enough of another brown/white combination that is originally intended for myself?!)
So that's a 3rd FO for the month of January in 2006! This is indeed a good year for me. I'm setting the goal of clearing out the UFO box this year however much as I possibly can so this is progress for me!
And speaking of UFOs, this lovely baby cardigan was peeking out of the box too! All it needed was some buttons and it would be gifted to my niece, Little P. I have given it a rinse and it's as good as new. Hopefully Ms P doesn't outgrow her knits so soon!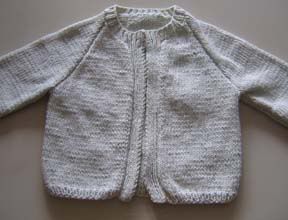 I know I can sew the buttons on today and make it a 4th FO for January...but, let's not overachieve our targets eh? [grin]

In case you are wondering, Mom's shrug didn't make it in time for this festive season.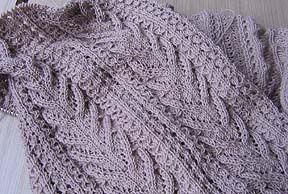 However, I am confident it should be ready by her birthday in April.
Mr Sockie is crawling along.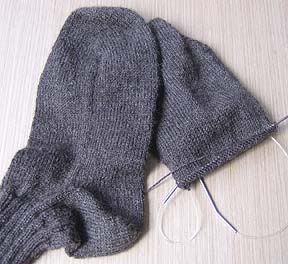 But we're nearing the heel turn!