Thanks for all the compliments on Ms P. I am sure her parents are over the moon with all your kind words too. And if I do keep this blog long enough, I'm sure Ms P will get to reading the previous entry :) Hmm..., and plus all the past entries relating to her too!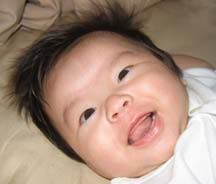 I am sure you all can see why I want to keep knitting for her? She's just irresistible. Mind you, she opened her eyes wider when she sees me waving the camera about. Not only that, she's a 2 month old who doesn't even blink when staring right at the camera lens?! Man, I think she's destined for many phototaking sessions to come!

Meanwhile, Mom's shrug has grown so much that I could actually wrap it around my shoulders as I knit on it. That's a handy way to keep warm when I was in the cafe.