Thanks for all the compliments on the shrug.

Erin asked:
"I am wondering whether the 4 ply soft is too warm to wear in the aircond?"

Not if you have low cold threshold like me or my mom. This shrug (or some call a bolero) works wonderfully in the airconditioned malls and cafes. Tried and tested.

For the record, the pattern is found in Keitodama, issue 126. In fact, we find this shrug so versatile. My sister tried it on and it looks great too! (Besides, it's easier to get a good shot of someone's back rather than my own.)



And if you are wondering about the entry title, I have just gone to the WIP basket and brought out this: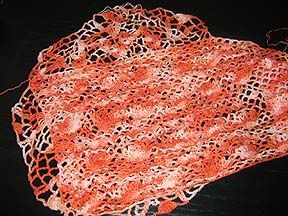 I am sure everyone recognizes these as crochet work. There's 2 projects in the photo but I am working on one of them at the moment. And it's really pushing my patience limits!

For one, this project has reinforced the fact that crochet requires a lot more concentration for me than if I were to be knitting. Crocheting with a tiny hook means that I have to watch where I am going constantly so no simultaneous reading or TV watching is allowed --

and that's really uncomfortable for a multi-tasker like me

.

And when mistakes occur (which somehow they do pop up more frequently than their K-mate), I ended up ripping back. It's unlike knitting where you can always go,

"ok, so let's undo and ladder down when we get to this spot on the new row."

So it's really been 2 rounds forward, one round back.
I know I should be more meticulous and careful but my brains at the moment is lounging somewhere out there on an idyllic beach, having mocktails. I am not going to give up so easily.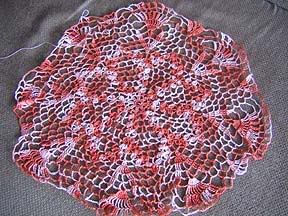 Watch my progress!