For these 2 items that found their way into my mailbox today!

Exhibit A:
Remember the
baby
pants
set
that I test-knitted for
Figheadh
?
Well, Jen very kindly sent me these...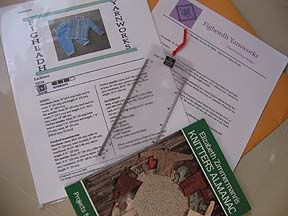 What can I say?! A copy of Knitter's Almanac and the very pattern itself! Jen's certainly takes very good care of her test-knitters! I am such a happy woman!

Oh, and that bookmark works as a magnifier too! My mom was trying to cajole me to hand over gift it to her.

And to add on to this for double pleasure....

Exhibit B:
Another parcel all the way from the US....
from my very own
Gift Elf: Kim
!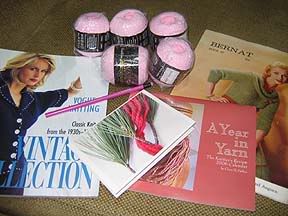 I told the Elf about my love for vintage patterns and she literally gave me something vintage (see that Bernat's pattern book?) & something new (The VK Vintage Collection!)!

To add to this, a calendar with all that gorgeous yarn photos [looks like I gonna have to try doing something similar but they'll probably turn out amateurish] . See that pink pencil? It's from Knit Happens! Woo hoo!

And pink yarn too.... this elf really reads my mind well.... thank you, my sweetheart.


Now, I am all for Festive Celebrations all across the globe! Watch out! I'm trying to get more production time soon!

Alright, I know I am pass my quota for exclaimation marks in this blog entry but hey, I can't help feeling so excited. It's like having a birthday you know (well, technically since I have to *unwrap* these packages...) Won't it be nice if I can have a birthday every other week? [dreamily....]

PS. I am going away for a holiday middle next month and I've been told that half the time spent in this trip will be on coaches, getting from Point A to B. Those journeys average 3-4hrs... now you know what I am going to pack in my hand luggage? [I am just so waaaayy behind on my exchanges....I'll get there soon! Wait for me!]