The pattern testing is going on well, despite some frogging. Here's how the sleeves line up. Love how the stripes go together!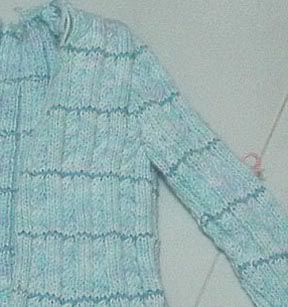 (No blocking done yet; I intend to do it when it's all put together.)
I have also completed the pants. This set should be really cute when it's all done.

I'll make sure I get good photos when I am done.
On the other hand, I've just launched the CLICKETY CLICK program - a scheme which I believe will truly reward those who have been giving us support and business since our launch.
As you can tell, I am hoping that I could stay at home and work on this business full-time!