Thanks for all the comments left on my previous posts. As I re-read my post, I wondered aloud what has possessed me to knit in the sweltering heat of Shanghai (where during the period I was there, high temperature alerts have been issued every other day.) If there is such a thing as summer knitting funk, that phrase never hit my dictionary.

As I unpacked my luggage, I found this - a project that I started as I sat in the Shanghai Pudong airport1 waiting to board my flight: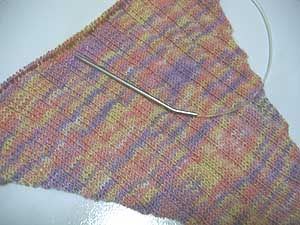 Which I

swear

is probably insanely familiar to everyone - a Clapotis. Enuff said.
Look at the pooling areas! As much as I detest pooling, I am trying very hard not to rip it all out. This photo is a progress shot of a yarn ball used; with all the increase rows done.
And speaking of luggage unpacking, there will be some yarns that I will be putting up for sale sometime next week if anyone's interested. Just look out for the update alert on the left sidebar.
This package just came in from
Lisa
. Remember the
post
I had on those Chibis? Well, I did her a favor by purchasing and mailing those to her and she returned it by getting my Knitpick orders shipped to me! We had fun as there were some KSP moments2 -- isn't it amazing how knitters almost seem to *read* each others' thoughts? Amazing.

Just look at all these! Not only did she sent through the yarn, she also enclosed some great sweet treats! Almost all are new to me as I have never seen them in Singapore. And Kool Aid for dyeing? She's a dear.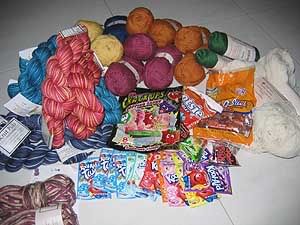 I just have to say I love these exchanges. If anyone is keen on an exchange (we can just agree to swap to an agreed monetary value), just give me a holler!

I am so glad that we are still unpacking in the new house. How else did you think I manage to *smuggle* these yarns into the house? I just made the box look as if it was sitting there all this while amidst the various cartons! LOL


1. It's entirely ok to pack knitting needles for your carry on luggage when boarding in Shanghai. They didn't bat an eyelid as I even had dpns. No scissors though. Same for Singapore airport.

2. KSP moments = Knitting Sensory Perception moments