The past week has been about moving (not me, hubby and his friend did them all). Hubby was nice enough to let me go for a much needed holiday break alone. So I did just that! Went to Shanghai.

It was all lovely and I got to eat lots of great food and meet new friends. Of course I brought my knitting along so that I could work on them.

Here are some of the FOs.



My sockpal2za socks is all done!
They are looking so luscious and there's partial ball left which I would enclose for my sock pal so that she can have a bit of fun with it. Or keep it for darning emergencies.
Pattern:

Broadripple from Knitty
Specs: 1.3 ball Rown Cashcotton Yarn, Japanese size 3 needles
Some things to note: Easy to understand and looks great with plain color yarns too
Time taken: about 2 weeks

I know it's still many months away but everyone needs winter clothing right? So for my
Knit.Sew
swap partner, I knitted the following items.

Pattern: Coronet winter hat from Knitty
Specs: 3 balls of Cleckheaton wool, 4mm needles
Some things to note: I was anal about the decreasing so I fiddled with it. I also cropped about 1-2 inches off the total length as I found it to be too long from the brim to the top
Time taken: about 2 weeks
A skinny scarf, anyone?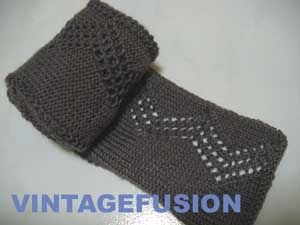 Can't you tell I love asymetrical styles?
I also wound some yarn I bought while in Shanghai, tried some stitches and knitted this skinny scarf. If anyone's interested, I'll be posting the pattern here later - I just needed to try and *read* it coz I just knitted it up without jotting any notes.

New knitter born!
With all that knitting, I have managed to influence and groom a knitter!
See this scarf? This is her first FO! I am so impressed by her. You can read more about the experience here.
And now, I am going off to unpack the stuff that was moved to the new house! Whoever thought that hubby and I would have accumulated so much stash - he with his box collections and me with my yarn and pattern books!