Taking a leaf out of
Leigh's Woolflower blog entry title
.

Not, I am not into spinning. I am just referring to the recent activities that I have indulged in. More another time if I have FOs from those areas to show.


Baby sideways sweater
Here's the pile of mess turned FO - my contribution to the
Baby KAL
.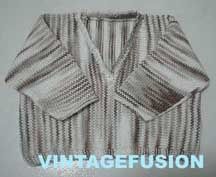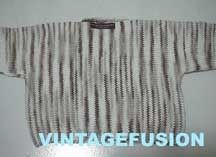 My first attempt at self-designing. I figured that baby patterns wouldn't be as hard! I think I may come up with a short sleeve pattern later if there's a demand. This side to side only means seaming on the sides. Say, would anyone buy this pattern?
Details so I won't forget

Pattern: My own
Specs: 1.5 balls of 4ply 50g cotton from my stash, standard needles
Some things to note: Planning a short sleeve or cardi pattern is probably
just as easy.
Time taken: 48 hours turnaround (in between other stuff)

I have sewed the label tag on the back so that the baby's soft skin wouldn't be irritated or made uncomfortable. Talk about visibility too! LOL

In fact, hubby like the random striping so much that he's requesting me to knit up one for him -- see how the yarn is striping randomly but in an almost consistent manner? Me likes it too. But I think there's some stablizers to work to the shoulder seams if that's the case. And if ever the case, it would be a at-home pattern to work on.


Hoodie update
Long time no see, no hear. Here it is. This photo marks the use of 10 balls of yarns -- an almost full garment sans ribbing. I think the remaining 10 balls will work comfortably on the hood, the ribbings and the trims. Such a relief... I was initially concerned about the possible running out of yardage.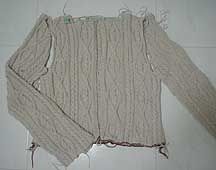 Isn't it wonderful that all crafts are inter-related and it just paves more ground for experiments and new learning experiences?