All right...I confess. I sneaked to a yarn shop this afternoon. I was planning to get *something* for a special friend in Canada. I think this weekend will be a trip to the Post office for me to send out the stuff. Yeah, finally*!
Here's a sneak into the carrier: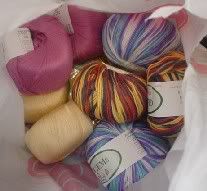 There are 2 crochet needles and a pack of pins buried under. I have some plans for the pink and beige yarns...in the certain Rowan issue, I saw a cardi I liked. I suspect this yarn would knit to gauge**. I like pinks and reds a lot.
Saturday's Purchases
I know you are curious on the items I bought on Saturday.
Here's a picture.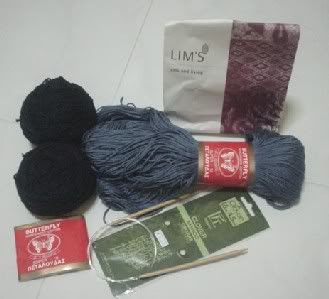 The yarns are called Butterfly Super 10 -- it's cotton too. See the 2 navy blue balls on the left? They are the ones that resulted in my 3 hrs entanglement agony! The paper package has that something special for my friend too! Actually I have decided what I might want to knit these yarn into. This: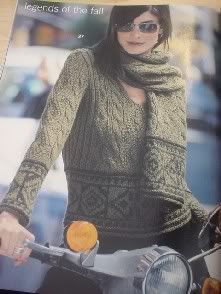 From a certain VK issue -- Fall 2002
So no stripey things for me then. I will use the sky blue for main and navy blue for contrast.
New FOs
Something to report on this one. My asymetrical cabled pink sweater (front and back views):

And a semi-FO. Except for blocking.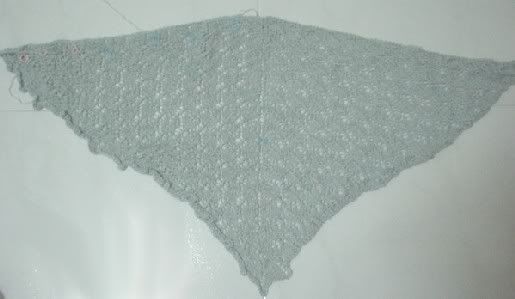 And how can they go without a label?


What do you think? Hubby says it's a sign of
getting overboard!

I am feeling chatty today.
* This is for a knitting friend so all condiments to go into the package are bought but not the essential ("yarn") ....until today.
** This is 100% cotton and it's exactly the same yarn as I used for my Flower Basket Shawl.