Still revelling in the fun of basic shapes, I have decided to continue with my pursuit of hexagon work.
But this time, in crochet.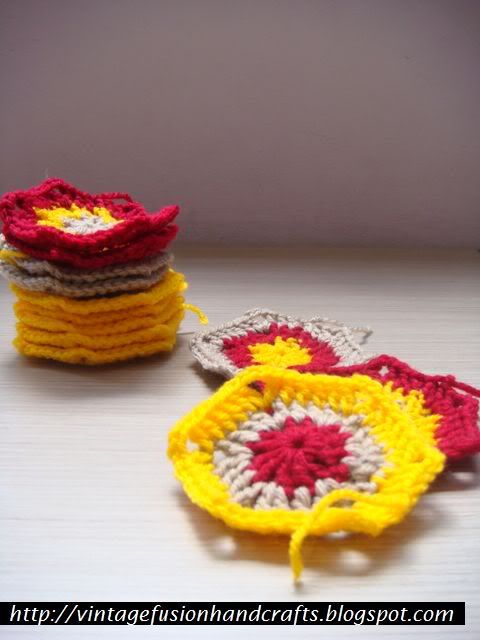 My original intention was to use the crochet hexagons to add width to the lapghan (which I had envisioned initially as a sofa coverlet or a blanket). However, as per
my earlier post
, you can see that it's a tad too narrow and more suitable for a single person use.
Besides, the colors I chose for this new crochet project is probably too great of a contrast. [Yes, once again, I have raided my stash.]
However, I really do like the colors together. My niece just loves to stack them up. If I crochet them larger, they will work well as
mug coasters
.
They are not-me-colors; but together the colors put me in a happy chirpy mood -- they serve as a great mood lifter, don't you agree?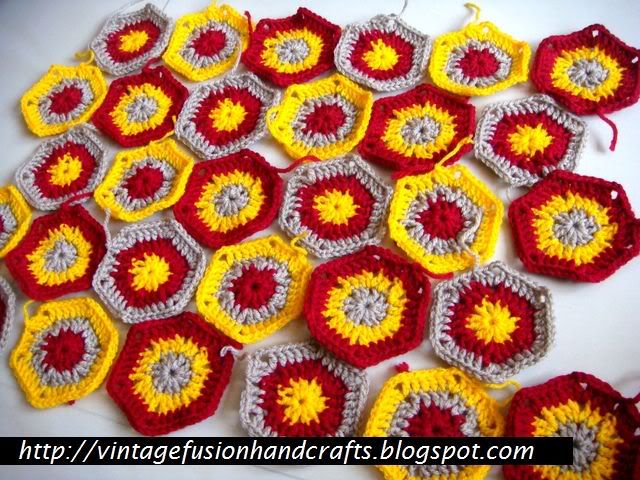 I haven't referred to any pattern chart specifically. I just developed the pattern on the go. It was quite easy to figure out.
The only thing that is bugging me is -- what should I turn this into? The ladies say nay to cushion covers, saying that I have already
done it previously
.
Besides, as one of them said,
"There is no way of showing this project if it doesn't leave the house!"
LOL! We are just a hilarious lot sometimes.