For those of you here for my knitterly updates, do check out
the blog entry I posted here
!
******
The rest of this entry is all about an eatery I visited recently.
If you are a fan of Indonesian food in Singapore, you would have been aware that Sanur is no longer around. In its place, there is a new eatery called
Pepes located at level 4 of Takashimaya.
GT and I decided to give the eatery a try while shopping at Takashimaya the other day. We went to the mall as I wanted to visit Kinokuniya Bookstore to check out the latest knitting magazines (what else?).
Our dinner order consisted of the following:
Tauhu Telor
Instead of the usual round shape, this one comes in a square. And the outer layer is extremely crispy as it was served piping hot. The chef does a light-handed drizzle of the sweet sauce so if you like it, so ask for a small serving of the sauce.
Beef Rendang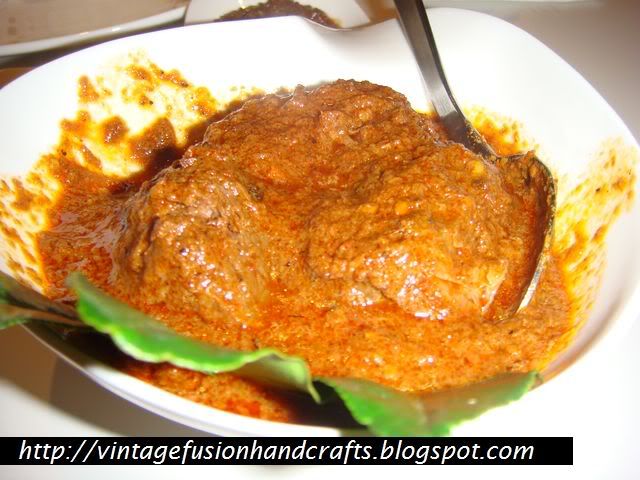 (Pardon the stains around the bowl. GT was almost digging into it when he realized that I wanted to take a photo.) This is the moist version with some gravy. This is fork tender and they have made efforts to remove most of the tendons.
Ayam Pop
This is a new dish -- we have never seen it on Sanur's menu previously. But the idea of steamed chicken with garlic is very appetizing. And the stir-fried chopped shallots and chillies add much oomph to the dish.
My only grouse? I wish that there is some gravy or broth as the chicken meat gets a little dry when you leave it out for 10 - 15mins on the table. Oh, and this dish reminds me of my favorite "aglio olio" -- italian pasta in olive oil and garlic. I might attempt to cook a version of this dish someday!
Avocado drink
This is my must-order whenever it's available on the menu. This eatery does a thick slurpy creamy version here.
In conclusion, both GT and I find that the meal is quite good, although we wished the portions are little bigger. The staff pretty attentive (it was a weekday evening). So we might come back sometime again.