I can blog peacefully.

First, my PC died late January.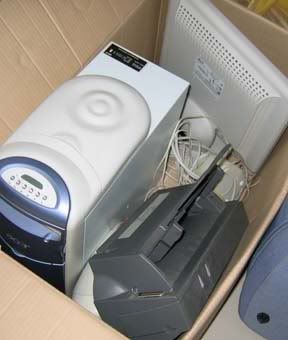 I have to say though I was pretty glad that it gave a sign. The PC kept freezing itself in bouts a few days before and I backed up my work onto an external harddisk.

A great decision as it went totally dead the next day.

Then there was the CNY reunion feast. About 18 people turned up and there was quite a bit of preparations to get all the ingredients onto the table -- we had steamboat.

But prior to that, I was knitting furiously. To get Mom's garments ready as promised.



The silk blend top zipped along easily. Until I got to the armholes -- I wanted a snug fit and I wasn't sure if Mom is comfortable with that.

The yarn also garned a lot of comments from the gals, who reckoned that the yarn is very *crunchy* in texture. A strange sensation, not like what we are used to. However, a wash is all that's needed to get the silky feel back.

I also worked on my niece's baby jeans. It was almost all seamed up (note the word: almost.)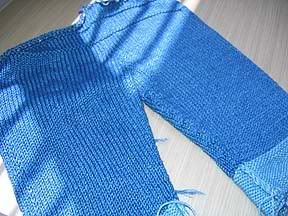 I was certainly glad that in the end, I did complete Mom's garments in time for CNY.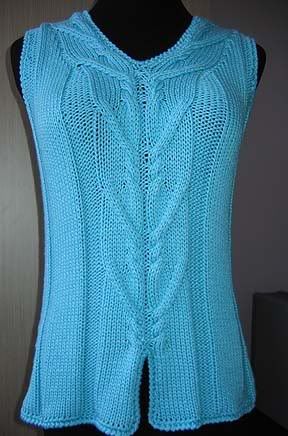 This piece was finally done up with all the tails tucked in although I didn't manage to get a shot with Mom wearing it.
[Edited to add: The above turquoise pattern is from Fatto a Mano # 146 put out by Lang Yarns. I used 7 balls of Top Soft for a medium size with some alterations to the armholes to make it snug. (I am sure you are used to my ways of *pattern fiddling* by now. ~grin~ ) Took me about 1 1/2 months to finish this as I was knitting the silk tunic below during the same period.]
However, the surprise is with the next piece.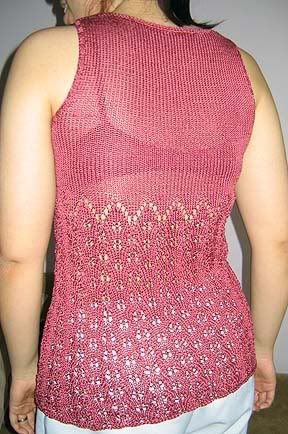 Initially as I am knitting this top, my Mom is worried that it may be very snug. However, as it is, the silk top has relaxed visibly after a wash. And my sister looks great wearing it. So it looks like it's a winner after all!
Now that these projects are done, I am looking for a new project to start on soon! I've been in a slump since post-CNY.
PS. Thanks for keeping in touch! I am well; it's just that I got weaned off the PC a little when the former met its death. :) So my CNY resolution? Blog more frequently!