The weather has been acting up. Sometime ago, we are all lamenting about the terrible haze that is looming over our tiny island. Just when the haze barely cleared out, the daily showers just set in.

During the tail end of the hazy period, I joined hubby at the Mandai Reservoir -- it's supposed to be Seletar Reservoir but it's near the zoo so that's why most called it as such, informally. (Gasp! I hardly exercise...) I know, I know. I was there to stroll while he jogged.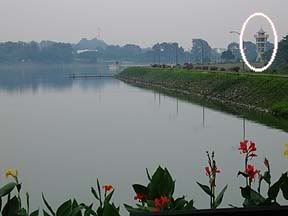 This is a popular place in the 70s & 80s for dating couples. See that tower that I circled? I am sure many who are of my parents' genre would probably have a photo or two in their albums taken there.

For the past week, the brolly has been an essential item in my bag whenever I head out. Just look at the weather!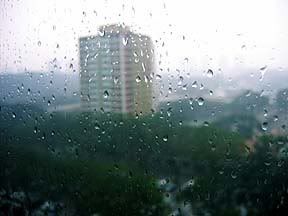 Apart from unpredictable weather, my own knitting has also stalled. But not those of
my students
. The last 2 weekends was slow going as I celebrated my big 3-O as well as my wedding anniversary.
We went to an Italian Restaurant located along Purvis Street. We walked in around 7:10pm without a reservations and was shown to a table when the restaurant manager decided that we have around an hour and half (until 8.30pm) till the next reservations.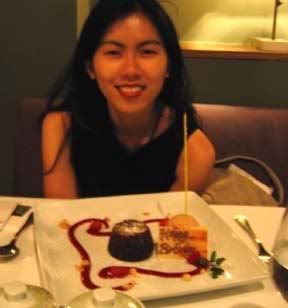 I wished you could have seen my expression 3 minutes after this photo was taken. Apparently, the manager decided that we are late to go, so he presented my hubby with the bill for *early payment* (as he so put it) as the couple who had reserved the table had arrived!
I was in shock as:
1. We didn't order any wine or fussed around with our food.
2. The orders was taken with 5 mins upon us being seated.
3. From my pasta course onwards, our subsequent courses are served late.
So was it our fault that at 8.40pm, I was just being served my dessert?!
To add insult to injury, can you imagine ants in the sugar pots?! The sugar pots arrived without lids and I could see the ants crawling around the minute the server had them put on our table! When we asked for a change, they then take another 10mins or so and brought the pots back -- this time, with the lids on (you can see them in the foreground.)
I am so upset and hubby is really furious with the way they handled our dine-in. It has been a very expensive meal and everyone who has heard of this restaurant had good impressions (either through hearsay, reading reviews or having dined there themselves). We chosen this place as we have had great experiences at their other deli/cafe outlet so imagine our shock when the service went south!
I have sent them a letter last week and is hoping to hear from them soon!