I'm giving the red lace top full priority. However, I have a dilemma after sewing up a sleeve.



You see, I am not quite comfortable with the way the sleeve looks. Maybe I am just used to fitted garments so the sleeve looks like it's way too loose for my liking.

So I left that sleeve on for the entire weekend and showed it to a few people.




Most who go yey says that the sleeve looks delicate and appropriate to the lace.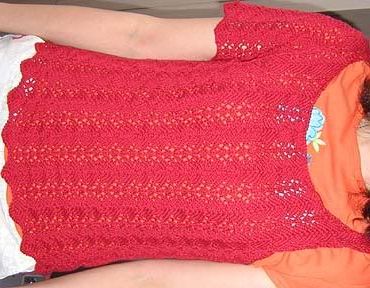 Even one of the gals, Esther couldn't resist trying it on when she came for the weekend knitting class. She obviously sees this as a piece that she could wear out often.

[Just don't mind the blouse-over-blouse, this is an impromptu shot to see how the garment fits on another person.]

Those who say nay has the following comments:
"The sleeve is bunchy...too much excess fabric."
"Sleeveless is more your look. The sleeve looks too mumsy."

At the end of the exercise, I am almost certain that I am going to rip those bloody sleeves off! But that last statement stuck with me for a while and gave me a clue.



A lightbulb went on. What do you reckon?
I decided to ask my mom to try this lace top on.
I can't believe how well fitted it looks on her! Especially with the shoulder/arm area.

[PS. Just don't mind the tiny bulges, the lace should flatten out nicely after a wash.]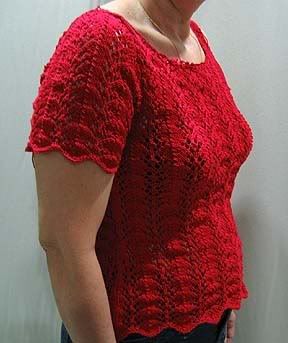 In fact, mom likes it a lot. When I voiced my concern that the top might be a tad too lacey to be worn as it is for her. She assured me that she would wear this lace top if I could quickly get on with sewing the other sleeve as well.

Hey, I've got a modern mom!

What do you reckon? Should I give this top to my mom or keep it for myself (well, I'll have to rip that sleeve off for me)?

PS. I am not sure if Aug/Sep is the season for red but I noticed a couple of red projects being started, worked on, and finished...all of late! Don't believe me, check out
my students' pieces
!
A Special Note:

Thanks to Peggy & Siow Chin for your encouragement. Wish you gals are here in Singapore to join us in our meetup!