It's not the WIPs' fault...mostly mine.
Well...the bamboo yarn project is still sitting in the basket -- I punished it as the cuffs refused to cooperate. It looks awful with the contrast colored picot edge (looks too cluttered with the lacy pattern on the sleeves) and similarly when I attempted to crochet a contrast color band, it stomped its feet too. So it's not going to make its appearance in this post.
I have to think of a better solution.
And so, I decided to work on a crochet project instead. But what I thought is simple and mindless didn't turn out to be quite exactly the case.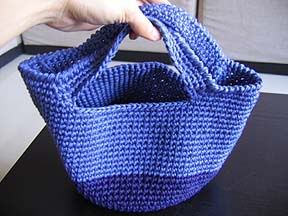 See that blue base? I had to rip that area once -- I preferred my bags to be sturdy so I had to dip the frog pond and restart with 2 strands.
The work left outstanding is on the handles and the button adding bit.
I'm happy but I am not so sure if I wanted to give it to my mom now. [grin]
On the other hand, the red lacy top is progressing slowly. I am afraid there's nothing much to show except for this.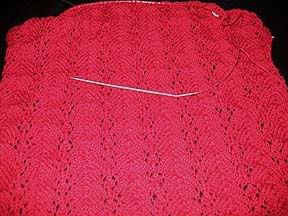 My motivation -- get this cast off by this weekend and start on the front piece!
Besides, my brain is going overdrive a bit with the recent blurb in the local news article -- a teensy, weensy one. There's been quite a bit of enquiries but I figured that most prospects are still unsure what they want to take back at the end of the day. I suppose it would take a bit more time before people realize that there's such a category called fitted garments in knitting!