The dress is coming along. In fact, it's getting past my hip area -- I am now on the 3rd lace pattern.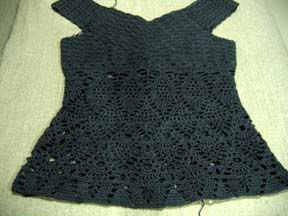 I like the way it fits so much that I am ignoring the advice to change to a larger hook at row 36. Maybe the hook change will come at the 4th pattern to make the edges flare more.



Molly asked:


I like the way your top looks much better than the photo in IK.... Since I usually knit and crocheting is not my best craft, I have not perused the instructions enough to see if the neckline is easily changed. Is it added on after the bust/bodice part?

The pattern is worked from the bust up to the collar so it's really easy to modify the depth of the neckline as you wish. The skirt is then worked down from the waist so again, it's easy to me to put it on from time to time to test the ease and change hooks as necessary.

The time spent on each row is getting longer too since the stitches is now more than double the stitches under the bust. It's a slow going as there's a real tendency for mistakes -- especially since the photos can't really show the lace patterns really well. Sometimes I get into a couple of rows before realizing that the pattern is not aligned (my mistake really.)


On another note, I have just completed the square & some crocheted flowers for
Warming Grace
.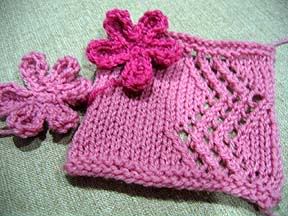 The pattern is loosely based on the Zigzaging Shanghai Scarf I knitted previously. This
ought to go out in the mail later today. But now when I re-read the blog, apparently Cynthia's opening the request for any colored squares too! Let's see if I could get another into the package! So go do your part!